7 Tips to Upgrade Your Workspace With Office Furniture, Storage Solutions, and More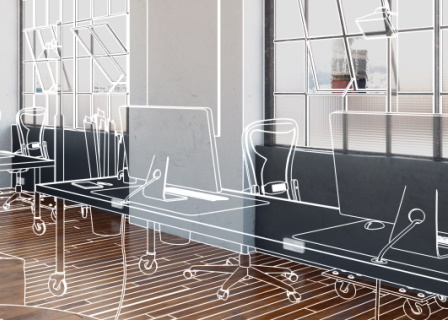 It can be tough dealing with the daily grind when your office space is less than inspiring. You want to give your employees a warm and welcoming environment, but also need to keep it professional at the same time. So, how do you ditch the boring corporate decor for something modern? By checking out these 7 tips to make your office effortlessly cool.
1. Choose the Right Color Scheme
The color that surrounds us can affect our mood and our productivity. That's why you need to find the perfect color scheme to suit your corporate suite. Take a cue from this year's hottest colors: gray, light blue, and yellow. Light blue and gray are an excellent way to keep the office flow, and pops of yellow add excitement.
You can add this palette to your office by painting the walls in shades of light blue and using gray office furniture. Find yellow pen holders, wall art, and other small decor items to brighten your office space up.
2. Find Office Furniture in Kansas City to Keep It Clean and Organized
One of the easiest ways to spruce up your office is by keeping it tidy, which can be difficult if you have a lot of employees. This is where design and functionality can really make a difference in a corporate office setting. Make sure employees have quick access to things like stylish recycling bins and trash cans, and designated areas to take a break.
Offer bins and file cabinets for people to have at their office desks to keep them clutter-free. Organize office supplies neatly, so you can find what you need easily without making a mess, and keep cords untangled. Find used office furniture in Kansas City for inexpensive storage solutions like filing cabinets.
3. Change the Lighting
Overhead fluorescent lights can be a real headache and lead to poor productivity from employees. In fact, some studies have shown that fluorescent lights can make some people tired and stressed out. A great way to upgrade your office and keep your employees happy is by using softer, warmer lights.
Can't rewire your entire office? That's okay! When you can, turn off the overhead lights and opt for table lamps on office desks. You can also add window treatments to maximize natural light, which is the best way for your employees.
Encourage the employees in your office to take advantage of their breaks by going outside or simply relaxing by a window on a wintry day.
4. Make it Modern by Getting Office Furniture in Kansas City That Keeps People Moving
Sitting in an office chair all day isn't good for anyone. Thankfully, you can help get your employees moving and improve their posture by getting them standing desks. It's an easy way to increase workplace productivity. They are simple to install, and never go out of style.
Your employees can take it a step further, literally, by getting an under-desk treadmill to burn extra calories. Let people know they are welcome to look for balance mats, alternative office chairs, ergonomic accessories for their workspaces.
5. Go Green by Adding Plants
It's not a secret that being around nature makes you feel productive. Switch up the high-tech office setting by opting for natural textures and, if possible, live plants. Look for easy-to-care for greenery like air plants and bamboo.
If you're sure your office can't handle keeping plants alive, get high-quality artificial plants. These plants show imperfections, like brown leaves and empty branches, so they look more lifelike. Another easy way to add life to your office decor is by getting fresh or artificial flowers to put in places like waiting areas, office desks, and break rooms.
The trick to maintaining artificial plants is keeping them clean, because they gather dust quickly. Clean them often by using a wet microfiber cloth to wipe off dusty leaves and petals.
6. Choose Office Furniture in Kansas City that Inspires the Senses
Textured furnishing is on-trend for home and office, which means your office can ditch the clean and sleek look of the past. Look at textured throw pillows for seating areas, wooden office chairs, and even funky accent tables. Just keep your accent decor in-line with your color scheme and make sure not to add too many details.
Take it from textured accents to enticing scents. You'd be surprised how much changing the scent of an office can boost everyone's mood. Choose a light, natural scent that circulates well in your office space.
7. Keep Employees Creative With a Coffee Station
Do you know what everyone loves? Free coffee! You can make your office modern and extra productive by providing a convenient place for the office coffee maker. Organize coffee pods, creamer, filters, and sugar in their own storage compartment. Let your team have even more fun by getting a rolling island to store coffee supplies.
Your office coffee station will look even better with matching company coffee mugs on it. Order custom mugs or look for cups that are the same as the color palette in your office.
Where Can I Find the Best Office Furniture in Kansas City?
At Santa Fe Office Interiors, we know what it takes to make your office space look incredible. We have an extensive selection of conference tables and chairs, desks, workstations, and more! Even better, we carry top quality brands and discounted prices you won't believe.
From traditional to modern, Santa Fe Office Interiors has new and used office furniture in Kansas City to make your space shine. Visit our showroom in Overland Park, contact us online, or call us at (913) 901-8800 to see everything we offer. Ask us about furniture installation and moving, too!