How the Right Office Furniture Can Make All the Difference for Your Employees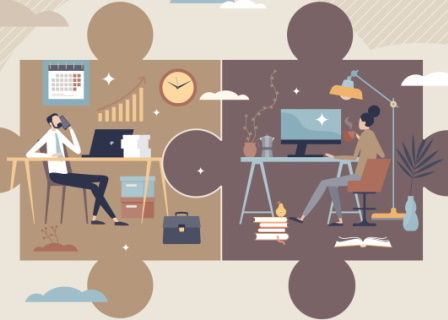 Working at an office is a lot different from it used to be, and businesses are adapting to the growing pains of a new hybrid work schedule. Americans no longer have to make the daily commute to work and continue to stay home in a new corporate work era. However, these changes can be difficult to navigate. So, how can your business adapt to the new way of working?
Hybrid Work Schedules Are Still the New Normal
Many companies were planning on having employees come back to the office full-time by the beginning of 2022. However, the emergence of the COVID-19 delta variant has put those plans on hold. In fact, many businesses are opting to completely adopt hybrid and remote work schedules. This gives people the flexibility over where they work and when they work.
Welcome your hybrid employees back to the office by introducing them to a revamped space. Show them how much you appreciate their hard work by getting new or gently used office chairs, upgrade them to a standing desk, or simply make the break room more comfortable.
Help your employees maintain productive at-home work environments. Give them tips on how to stay active, suggest ways to switch out regular home furnishings for office furniture, and consider teaming up with other departments to show off how they work from home.
Companies Will Need to Fight to Attract Talent
The term "great resignation" is buzzing all over news outlets and social media. Since April 2021, 15 million people have left their jobs, and experts are expecting this trend to continue. That means your company is going to need to offer more than the basics to attract talent.
More than ever, people want to feel successful at work and in life. Many companies have heard their employees and are finally giving them a voice. While the best new and used office furniture in Kansas City is a great place to start, think about other ways you can attract talent to your office. Here are just a few things people are looking for when they switch jobs:
Increased salary
Better benefits, including retraining and financial wellness incentives
Emphasis on work life balance
Workspace where they feel valued
Businesses Are Refining the Workplace Ecosystem
A workplace ecosystem is where different departments of your company work together as a community. Previously, many businesses separated departments like design and accounting, and most communication was done through only a few people. Not only does this lead to miscommunication, it doesn't foster innovation and collaboration between employees.
You can get your business on board by creating a better workplace ecosystem, by setting up special places for meetings or to spend time with people from other departments. Find used office furniture in Kansas City and other small details to create a warm, welcoming environment where people can relax and work together.
Everyone Needs an Upgrade in Technology and Office Furniture in Kansas City
One of the biggest issues companies have with hybrid and remote work is that people working from home don't have the technology and furniture to keep up with the demands of their jobs. Many people find it difficult to work from a laptop on their kitchen table, and most people don't have the room for a full office in their homes.
Let's face it. Laptops, office desks, office chairs, and everything else it takes to run an office are expensive. Many people can't afford to get everything they need to work at full capacity. It's worth your while to offer your employees office furniture to use in their homes and provide them with the latest technology in their fields.
When you invest in your employees, you show how much you care about their wellbeing, which can cause increased productivity. You can easily find things like used or discounted office chairs and desks to make working from home much easier.
Find the Best Selection of Office Furniture in Kansas City at Santa Fe Office Interiors
Get conference tables, office desks, and more at prices you can afford when you purchase office furniture from Santa Fe Office Interiors. We are dedicated to providing the Kansas City Metropolitan area with high-quality new and used office furniture to suit any style.
When you shop at Santa Fe Office Interiors, you're shopping locally! Find everything you need to create coworking spaces, open working spaces, private offices, and home offices. We know how important it is to run your business on a budget, which is why you can find interior office solutions at deep discounts. Contact us today at (913) 901-8800 to request a tour of our showroom or to ask us questions about our inventory.