Where and How to Spend Your Hard-Earned Money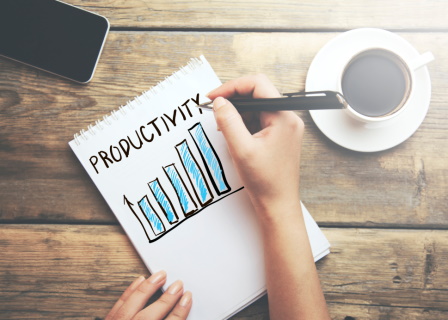 It's that time of year where most of us have a little extra money in our bank accounts. Don't waste your extra funds on things you don't need. Instead, upgrade your office space on a dime with high-quality new and used office furniture that will increase your productivity and keep you happy all day long.
Not sure where to start? Read these quick tips on how to upgrade your workspace and why Santa Fe Office Interiors is your one-stop-shop for the best office furniture in Kansas City.
It's Time to Look for Ergonomic Office Chairs
If you want to be more productive while you're working, you need to invest in a quality office chair. Sitting for extended hours in an uncomfortable chair can cause major issues with your neck, back, and hips. In fact, back pain is one of the most common reasons employees take sick days.
When you have less pain, you'll be able to work at your desk without interruption. Here are the things you need to look for when you're ready to replace your office chair:
Adjustable height
Ample padding
Arm rests
Lumbar support
Brand-new, top-notch office chairs can cost you a pretty penny, but our office furniture store in Kansas City has a seat for you at a price you can afford. When you visit our showroom at Santa Fe Office Interiors, you'll find a variety of styles, sizes, and colors of incredible office chairs.
Pro Tip: The smoother your office chair rolls, the less pressure you put on your back and legs. Protect your health and your carpet by getting a chair mat along with your new office chair.
Office Furniture Always Includes Sensible Storage Solutions
Those cheap shelves you bought from that big box store aren't doing you any good, and that tiny file box isn't working, either. If you want to get organized and stay organized, high-caliber storage is your only option. It doesn't stop at tidying up loose papers. Check out these storage options to declutter your office:
Coat tree to keep clothing off of your office chair
Containers and tray organizers for office supplies and cords for electronics
File cabinets for important documents
Shelves for books, bins, and decor
When you're shopping for office furniture in Kansas City on a budget, it might feel you need to choose between style and function. That's not the case at Santa Fe Office Interiors. We have plenty of storage options and used office furniture that keeps you organized and looks good in your office space. We'll even give you expert advice on how to integrate your new storage system in your home or corporate office.
Pro Tip: Secure storage for important documents is essential. Ask our experts about storage solutions that lock or offer fire protection.
Give Yourself a Leg-Up, and Get a Standing Desk
At our new and used office furniture store, we think there are no better office desks than standing desks. Not only does it reduce your risks of diabetes and heart disease, it burns more calories and takes the stress off your back. Standing desks also boost your productivity by increasing your energy levels and boosting your mood.
Another amazing benefit of these revolutionary office desks is that you might increase your lifespan by using one. Studies have shown that standing for about three extra hours a day could increase your life by an astonishing two years.
One of the biggest concerns with standing desks is their price tag. At Santa Fe Office Interiors, we believe everyone deserves to be comfortable while they're working. That's why we have standing desks that suit your budget. Finally, work in comfort and burn calories at the same time!
Pro Tip: Standing desks come in many heights and sizes. Our professionals are here to help – stop by our showroom whenever it's convenient for you or call to schedule an appointment to look for a standing desk.
Put Up the Partition, Please
A partition is office furniture many people don't think about. However, if you work from home, it can save you from a world of distraction. Block out kids, pets, and anything else that keeps you from focusing on your work. Dividers also make great additions to corporate offices, because they keep your employees on task and promote social distancing.
Partitions also offer a way to separate your office space without adding a permanent wall in your home. When strategically situated in your workspace, partitions offer privacy, natural, light, and a touch of style.
Our used furniture in Kansas City includes way more than office desks and chairs. We have partitions, dividers, conference tables, and cubicles, too! It doesn't matter if you work from home or in a corporate setting, Santa Fe Office Interiors has the solutions to make your space look gorgeous and maintain productivity.
Pro Tip: A quality lamp is important, but adjustable lights are better. Look for light bulbs that can be adjusted based on the time of day – blue or white light in the morning, and yellow or orange light for the evening.
Don't Forget About Decor
Decorating your office space is a big deal! It keeps you happy and motivates you to stay at your desk. The key is to keep most decor off your desk, because you need that space for more important items like your computer, pens, and paper. Most experts recommend using vertical space for your workspace decorations. Here are some great ways to add style to your workspace:
Frame souvenirs from your favorite trips
Install floating shelves
Paint an accent wall
Show off your degrees and awards
Use a diffuser for aromatherapy
We have elegant and beautiful used office furniture at Santa Fe Office Interiors. For instance, you can have style and function with executive office desks. These desks look sensational, allow you to access everything from one spot, and have features like locking storage solutions and space for another computer system.
Pro Tip: Did you know studies have shown that workers can be up to 15% more productive in an office setting with plants? If you don't have a green thumb, don't worry. Look for plants that are easy to care for, like air plants, succulents, and cacti.
Stop Looking for the Best Office Furniture in Kansas City!
Because Santa Fe Office Interiors has it in-stock! Our new and gently used office furniture offers everything you need to outfit your office without breaking the bank. Find affordable office chairs, desks, conference tables, and everything else in between on our showroom floor. Plus, you don't even need an appointment.
Call us at (913) 901-8800 or stop by and chat with our team to see how you can upgrade your office on a budget at Santa Fe Office Interiors. You'll be glad you did!