Get High-Quality Used Furniture in Kansas City at Sante Fe Office Interiors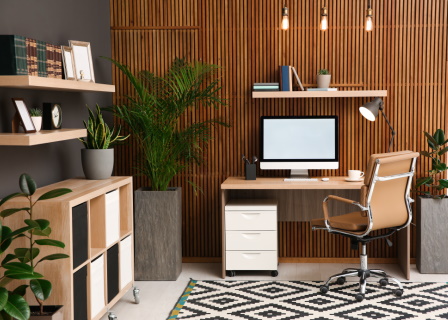 We have everything you need to complete your home office at Santa Fe Office Interiors. Our used office furniture store in Kansas City has an array of office chairs, desks, and storage solutions in contemporary, modern, and traditional styles. Whether you want something a little more fashion-forward or the ultimate ergonomic office, we have the used office furniture you need to customize your home office from top to bottom.
A home office needs to provide a comfortable, personalized environment, but it also needs to keep you productive, too. Don't just settle for what's available in the big box stores or wait weeks to have new office furniture shipped to you in pieces. Instead, get to work in your home office right away with high-quality used office furniture from Santa Fe Office Interiors.
Our 9,000 square foot showroom is filled with office furniture just waiting to find a place in your home. Come see what we offer that can truly make working from home feel just like heading into the office.
Office Chairs
Whether you're looking for a colorful chair to match your interior design or an ultra-ergonomic chair to protect your back, we have the right office chair for you. Here are a few brands we carry to help you feel comfortable every time you need to log-in to work:
This commercial office furniture brand prides itself on their sustainable products. They are committed to using as many renewable and recyclable materials as possible. Cherryman products are built for the long-term. It doesn't matter if you choose the Atto office chair or the Zetto office chair, you can be sure it will be quite some time before you need to replace it.
If you're looking for an incredible mix of fashion, function, and affordability, then you need Lorrell office chairs. They manufacture everything from executive-level chairs to high-quality folding plastic chairs. You can even purchase chairs made especially for your guests to be comfortable. Whatever seating solution you're looking for, Lorell has it!
The carpet in your home is not the same as the carpet in your office. That's why you should consider purchasing an office chair mat. Not only does it protect your carpet from the impact of your office chair, it makes it easier to roll away from your office desk, which takes a lot of pressure off your back and keeps you more comfortable throughout the day.
Office Desks
There is no such thing as a one-size fits all office desk. At our used furniture store in Kansas City, you can find a variety of desks manufactured to suit anyone's work style. From bold executive desks to back-pain-relieving standing desks, Santa Fe Office Interiors has a desk for you! Before you visit our showroom, check out just a few brands of office desks we carry:
When you purchase office furniture from Express, you're getting high-style. Choose from office desks that are made from extra-durable materials, modern designs, and accommodating configurations. You can also find office desks from Express that are sleek, simple, and functional. Check out the Lair office desk or try out the Status office desk.
Conset Adjustable Height Desks
This electric lifting desk is perfect for those who need to regularly change the height of their office desk throughout the day. Conset office desks are also perfect for people in wheelchairs, because they can quickly, safely, and easily adjust the height of this desk. Even better, this electric-lift desk is one of the most cost-effective standing office desks available.
The Harmony Collection is office furniture that strikes an amazing balance between beauty and function, all while maintaining an excellent value. This collection has spectacular office sets that give your home office a sleek and professional look. You can even purchase lounge seating for guests or a place to unwind for a few moments during your workday.
Don't Waste Time and Money Shopping for New Office Furniture in Kansas City
Because we have the highest-quality used office furniture in the entire metro area. From Kansas City to Olathe, Santa Fe Office Interiors has the inventory in our showroom to outfit your home office at a price you can afford!
If you're ready to work from home comfortably and professionally, stop by our used furniture store in Kansas City, call us at (913) 901-8800, or send us a message online. Don't forget to ask us about storage solutions and conference tables, too!