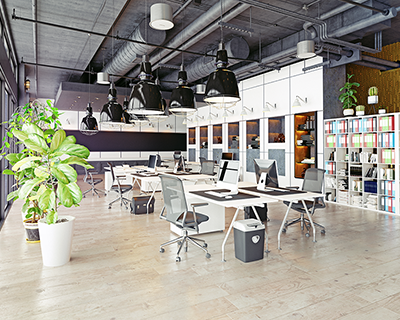 Are you and your staff ready to remodel your office space? Has your business' interior been in need of a transformation for quite some time? We often see businesses who want to update their furniture but budgets constrain their ability to do so. Our team at Santa Fe Office Interiors in the greater Kansas City region is ready to help through our pre-owned office furniture collection. Why outfit your office space with quality pre-owned furniture when you can just buy the latest and greatest new piece of furniture? Because pre-owned desks, pre-owned chairs and pre-owned additions like partitions are just a few items that you can pick up at a discount, that are still high-quality, and that are readily available. All this without taking a depreciation hit. Not only that, but in today's world, waste and consumption is more prevalent than ever before. By buying pre-owned office furniture, you are helping the earth by recycling perfectly fine materials and keeping them out of landfills. Let our staff and showroom show why buying pre-owned is a win-win for any business looking to update their interior space, in and outside of Kansas City.
Discounted Cost
High quality office furniture does not have to cost an arm and a leg, nor should it be putting a dent in your business' overall budget. One of the most obvious reasons to buy used or pre-owned office furniture is for the savings. Not only can you find great deals on recent models, but it enables you to purchase higher quality furniture at a lower price point. If buying the newest and highest quality model will break the bank, look to previous year's models and pre-owned furniture to find a comparable piece at a much lower rate. By purchasing pre-owned furniture, you are able to shop for the best styles to fit your needs while keeping costs low. Looking to remodel your home office or commercial space, Santa Fe Office Interiors has everything you need from used desks to used chairs and more. Pre-owned furniture is affordable, accessible and economical.
Quality
Purchasing pre-owned furniture through a trusted dealer means buying quality furniture you can count on. Not only that, you have a near limitless selection of furniture and styles to choose from which spans years of quality craftsmanship. And those quality items, which have stood the test of time, will stand out among the new and pre-owned furniture on the market. With our Overland Park, Kansas showroom, our team at Santa Fe Office Interiors has seen furniture come and go over the years. That experience helps you, the buyer, identify the best furniture on the market and the best to fit your unique needs. Every office space is different in shape, size and style. Working with our experienced staff means finding the furniture you are looking for with minimal to no signs of where. Buying pre-owned quality furniture right here in Kansas City means giving back to your community and repurposing perfectly fine material and design.
Environmentally Friendly
Each year, thousands and thousands of office and home furniture is produced, bought and sold throughout the world. That means millions of nuts and bolts to hold together the countless legs of office chairs and surface areas of office desks. With every new product, innovation is being matched and reset in an exciting cycle forward. What this also means is that every office space item is on the shelves for a limited time before being cleared out for the next year's models. Perfectly fine office furniture is being rotated out, whether that is from stores to clear way for new inventory or office spaces who irresponsibly update their space each year. That is where the value and benefit of buying pre-owned office furniture comes in. Let someone else take the depreciation hit and keep up with the trends. Buying pre-owned means you have a world to choose from, not just what is hot this year. And through this responsible and sensible act, you will not only be helping your budget, you will be helping the environment. Even if it is a small part, every bit counts when we work to reduce our carbon footprint.
Resale Value
We have all heard about a car depreciating after being driven off the lot. Similarly, goods such as office furniture also depreciates. Why not let someone else take the hit in buying new furniture? By sticking with selections of used and pre-owned furniture, you are not only saving on costs, but your purchase price is often close to matching your resale value, should you choose to sell in the future. That means recovering much of the cost spent to outfit your commercial space or office.
Quick Delivery
New furniture is often shipped from a factory in another state or another country. Backorders are common and shipping costs can be expensive. For pre-owned furniture, especially in our Kansas City area furniture showroom, you can skip the catalog and come right in to see the pre-owned selection. You can even try out the furniture to see if the desk chair fits or you like the height of that ergonomic standup desk you have always wanted. Instead of waiting weeks for a delivery, come to our showroom and pick through thousands of options, many of which are already assembled.
We are open Monday through Friday from 10:00am to 4:00pm and are also available by appointment to help fit your busy schedule. Owner operator, Jim Lust, has over 30 years of experience in the industry and is here to answer your questions. Come visit us and our inventory at our Overland Park located at 8106 Santa Fe Drive, Overland Park, KS 66204. When you are ready for your next office redesign or looking to furnish a new office space from Overland Park to Kansas City and beyond into Missouri or Kansas with pre-owned furniture, contact our team at Santa Fe Office Interiors at 913-901-8800.