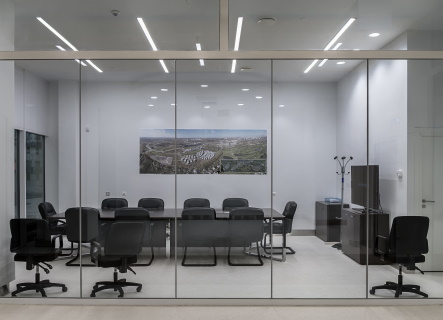 Office partitions come in all shapes and sizes, but what do they actually do? From cubicles and workstations to room dividers and movable assets for space planning, office partitions are an ideal way to divide a space within your office. At Santa Fe Office Interiors, our staff is ready to help bring the best style and size office partition into your Kansas City office space. Beyond diving a space, there are many benefits to the partition. From providing an aesthetically pleasing and budget-friendly way to create individual spaces to promoting productivity and privacy, quality-made office partitions are found around the world as a flexible and inexpensive solution to dividing a large interior space.
Have you just moved into your new office space in downtown Kansas City or one of the surrounding metro areas in Kansas or Missouri and you wish you had the budget to create walls and a new floor plan? Our vast selection of office partitions at Santa Fe Office Interiors is a cost-effective way to make that change in the interior design possible. Whether you are looking at a floor-to-ceiling solution or maybe you want the open feel of the room but with a little added privacy? Checking out our showroom and speaking with one of our experts will help you narrow down to your exact needs. Let us dive a little deeper into the world of the office partition.
Common Uses for the Office Partition
In contrast to creating a permanent wall, a new or pre-owned office partition offers a much more flexible option in terms of financial savings as well as mobility. From traditional partitions to a more modern glass partition, they are easy to install in a short amount of time, letting you and your business get up to speed to focus on what really matters to your employees and customers. Floor to ceiling office partitions have become increasingly popular for dividing up workspaces throughout a large open-floored office, such as a loft or a warehouse building. Another option available is to add a sleek, updated and classy aesthetic through glass partitions that provide sound privacy while keeping a modern feel. Glass partitions are popular for areas and office spaces that want to take advantage of light and an 'open' feeling without dividing through solid material. Smaller partitions are common throughout offices creating privacy in the form of working spaces or cubicles. These are basic dividers that function to encourage productivity and privacy but also allow a level of socialization in the workplace by not completely dividing staff.
Benefits of Office Partitions
Reconfigure Your Space, In A Hurry If Necessary
Installing office partitions means you are installing a modular wall that is able to be arranged however you see fit. Maybe one day you have a conference of thirty people and the next day you have a meeting with five people, with an office partition setup, you are able to rearrange and customize a conference room to fit your exact needs and specifications, or the needs of a client. Whether a solid partition or a glass divider, planning and arranging an interior office space has never been easier. Portable partitions encourage the creation and customization of new office layouts, which brings us to the next benefit.
Affordable Remodeling
Similar to using partitions to reconfigure a space depending on immediate needs, office partitions can provide an exciting way to not only keep your office space up to date, but also keep it new and refreshing. Often, changing a stale office environment can not only boost productivity, but it can boost positivity among staff and recurring clients. Constant attention to interior office spaces and their design show that as a business owner, you care about appearance and how your space affects your staff. From an open-plan to cubicles, partitions make it all possible.
Improving Your Sound
Open office spaces can become noisy and that noise can be distracting for people trying to focus on their jobs. Luckily, office partitions provide a modern solution to an abundance of noise in the workspace. From glass, or even half-height partitions, installing these moving walls can greatly reduce ambient noise.
The Advantage of Natural Light
Not only will natural light help you save on the cost of utilities as well as the planet, but working with the team at Santa Fe Office Interiors to install glass office partitions will help to boost office morale and encourage productivity. Glass and open partitions are able to provide the privacy and sound control to make a large space seem controlled, and they are able to do this without creating a dungeon or basement feeling by utilizing natural light. Closing off areas of an office with solid materials can quickly change the appearance and draw of an otherwise beautiful office space.
Our showroom is located at 8106 Santa Fe Drive, Overland Park, KS 66204 and we are open Monday through Friday from 10:00am to 4:00pm. Stop in and talk with our team to get you set up with storage and filing solutions for your business. If those times do not work, feel free to make an appointment and stop by whenever it is convenient for you and your schedule.
Our team and owner, Jim Lust, at Santa Fe Office Interiors can be reached at 913-901-8800 and are ready to answer any questions you may have as well as discuss everything from lead times to delivery and pricing. Looking forward to working with you soon!