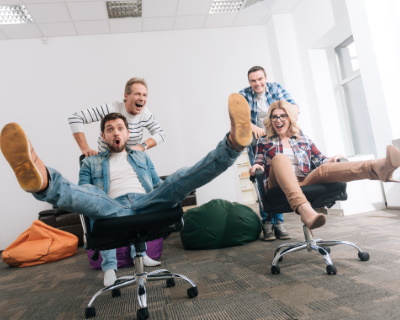 An ergonomic-focused office provides a healthy, productive and comfortable environment for you and your employees. With the average person spending over 40 hours a week in the office, that adds up to over 18 years of sitting over a lifetime. Beginning with stationary wooden chairs, office seating has evolved throughout the years transforming through design and manufacturing to meet the growing needs of the office worker. Medical publications have touched on the importance of ergonomics and companies such as RFM Seating has made it their business to supply seating solutions that lead the way in not only ergonomics, but the seating industry. Ergonomic chairs have adjustable seat height, depth and lumbar support to complement and support spinal alignment. Not only that, but RFM Seating encourages good posture throughout the work day through their different types of ergonomic chairs. From the executive chairs to more basic task chairs, ergonomic seating comes in a range of styles and levels of production to fit any interior office space. While choosing a new or used ergonomic office chair for your next space, there are several characteristics to keep in mind which include: the ability to raise and lower the height of the seat, seat depth adjustment, knee tilt adjustment, lumbar support for your lower back. At Santa Fe Office Interiors in Overland Park, Kansas, we provide the greater Kansas City region with ergonomic office seating solutions from RFM Seating in three lines from their portfolio.
Top 3 RMC Chairs Series at Santa Fe Office Interiors
Evolve Series
For more than 35 years, RFM Seating has focused on ergonomic seating paired with smart style and solid manufacturing. From the Pacific Northwest, Santa Fe Office Interiors brings RFM Seating solutions to the greater Kansas City region, outfitting area businesses with the style and comfort they are looking for. If we do not carry it in our showroom, RFM Seating's flexibility and commitment to customer service means Evolve orders ship in just 10 days and select models ship in 48 hours. For the Evolve Series of RFM Seating, there is a focus on multiple control options and advanced synchro to comfortably accommodate up to 300 lbs. The height is adjustable with a defined lumbar area with seat slider allowing for a fully customizable mesh chair seating solution. The Evolve Series comes with two back sizes and a comfortably molded foam tractor seat. Did we mention they are fully customizable to fit any office space or style? The upholstered back comes in 7 mesh colors, several seat size options, and a full line of matching guest chairs to pair with conference style seating. RFM Seating focuses not only on ergonomics, but also on the ability to customize each seating. For example, the office tailbone cutout options, memory foam seating and a range of sizes and shapes, all with a warranty package that leads the industry.
Tuxedo Series
The RFM Seating Tuxedo Series combines ergonomic comfort with a distinctive style. Made for a perfect fit like a good tuxedo, this series features detailed stitching on the chair's back providing a distinctive style. The seat is available in 3 sizes as is the seat back, which comes in a medium back, manager's high back or the executive high back. Looking for options that go beyond the seat or back? The arms on the chair are available with several styles and functions. There are six variations of mobility for the arm, from folding to swing, pivot to 360º rotation, a vertical and horizontal adjustment to a four-way, the Tuxedo Series from RFM Seating is a step above the rest in function and customization. Customize each chair with your company's logo, and like the Evolve Series, customize each chair even further with the added comfort and support of air lumbar, tailbone cutout, memory foam, and chairs in the exact shape and size to fit your needs. Santa Fe Office Interiors supplies the greater Kansas City area with new and used ergonomic office chairs from RFM Seating to accommodate all shapes and sizes. Our in-house seating solutions means you can come to our showroom and test out some of the top brands in the office furnishing industry.
Essentials Series
People are getting smarter about their health and about their health in the workplace. The working world is ever evolving and with it, the day-to-day office environment. Cubicles are being replaced by a more open-aired, flexible seating concept to invite collaboration and camaraderie within the office. And with that openness comes seating solutions by RFM Seating such as the chair with the see-through top in the Essentials Series. With a distinctive high impact black mesh back, the Essentials seating provides the best of high style for your office as well as versatility, with foam cushions. This chair screams modern and style with its black mesh back. But what is style without function? Each of the Essential Series models feature enhance lumbar support for all shapes and sizes. Don't think it can get better? The Essential Series offers all this at an affordable price for all office sizes.
Choosing the right furniture is important when you are shopping for your office space and ergonomic chairs should top the priority list. The benefits of an ergonomic chair and customized office setup will help promote good posture. Not only that, but when sitting for hours at a time the right ergonomic chair from RFM Seating through your greater Kansas City office furniture center will promote healthy joints, help you feel more energized, maintain proper body alignment, and increase your productivity.
With a lifetime of sitting, the benefits of ergonomic seating solutions outweigh going back to standard seating of the past. From ergonomic chairs to adjustable desks to partitions and furniture that favors customization of an interior office space, our team at Santa Fe Office Interiors is ready to bring you up to date on the latest and greatest in office furnishings. We are open Monday through Friday from 10:00am to 4:00pm and are also available by appointment to help fit your busy schedule. Come visit us and our inventory at our Overland Park located at 8106 Santa Fe Drive, Overland Park, KS 66204. When you are ready for your next office redesign or looking to furnish a new office space from Overland Park to Kansas City and beyond into Missouri or Kansas with pre-owned furniture, contact our team at Santa Fe Office Interiors at 913-901-8800.