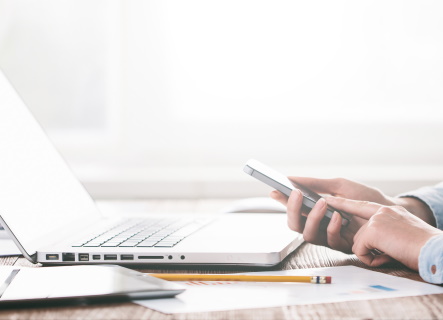 At Santa Fe Office Interiors, we serve the greater Kansas City region with new and pre-owned office furniture including office desks. One of our specialties is providing area businesses with desk solutions from the top brands in the industry. Working professionals generally spend over 40 hours per week at a desk, so it is important to have a work space that promotes productivity and an organized work environment. Whether you are looking for new or pre-owned desks for your office, office space, or home business, our Mayline desk series come in a variety of styles to fit any aesthetic and interior space. Our staff at Santa Fe Office Interiors in the greater Kansas City area will guide you through the process and help you browse our showroom or brand brochures to make sure you find the best desk for your workspace.
Mayline desks come in a variety of styles to meet your interior office aesthetic through their top series Napoli, Medina and Sorrento. Each series brings a different style and function into the office environment. Mayline desk products are backed by the company's warranty to repair or replace any product or component that is defective due to material or workmanship. When choosing a new or used office desk, height, build, and appearance all play a role as does functionality and the ability to customize. The ergonomics of the desk should also play an important part of the selection process, going beyond just the looks of a particular brand or design. From wood to glass to laminate desks, they all come in many shapes and sizes and styles. A desk is more than simply a flat surface. When selecting a desk, your viewing angle should be no more than 35º from your computer screen with the height at a level that works best for you providing adequate space underneath.
Mayline Desk Series Available at Santa Fe Office Interiors
Napoli Series
Influenced by an Italian style with European sophistication, the Napoli Series desk works well in your business or home office. With clean lines, this style uses a generous amount of glass and metal to compliment the wood finish, which comes in three styles featuring AA-grade North American hardwood veneers throughout. Offering a variety of storage and desk options in a contemporary aesthetic, this series is for today's thoughtful and sophisticated office that respects functionality in storage solutions. The 'floating' design is created by silver supports which hold up the curved ends of the worksurface. Need matching furniture? Also available in the style are bookcases, lateral files and wall cabinets to complete your custom office look. Conference tables in the Napoli Series are rich veneer tables with attractive beveled edges that range from six to thirty feet.
Medina Series
Are you looking for a contemporary style that is elegant, functional yet at an exceptional value to meet your budget? The Medina Series from Mayline furniture boasts clean lines and curved shapes on floating worksurfaces, elevating the design. The components provide a range of customization and configuration of this Italian-influenced furniture design. In addition to their desks which range in shapes and sizes to fit any office, Medina Series offers conference tables which range in size from eight to fourteen feet in length. To bring an old Italian style into today's working world, the furniture can be equipped with power and data outlets enhancing connection without sacrificing design and sleek aesthetics which come in five styles. Through laminate choices, these styles are rich in texture and detail that have dramatic curves to accent the end panels and extensions. Our team at Santa Fe Office Interiors is ready to help you find the best desk solution in the Medina Series to fit your office space and style. Come to our Kansas City area showroom to learn more and see these new and pre-owned desk solutions for yourself.
Sorrento Series
From a Bourbon Cherry finish with Maple inlays to the Espresso finish with frosted glass accents, Sorrento Series offers a new level of office sophistication to the Mayline desk line. Wood veneers with leather linings on drawers and trays elevate the features of Sorrento to appeal to discerning tastes. This line of new desk is perfect for an impressive executive suite or to compliment a high-end conference solution at affordable prices. With the Sorrento Series from Mayline, craftsmanship is apparent with a multi-species hardwood veneer finish and solid structure. Regardless of the space, Santa Fe Office Interiors has a desk style and solution for your office. Mayline has three lines of top-quality material and manufacturing to fit any office aesthetic and workspace need.
From curved desks to L-shaped desks, our team is ready to help navigate our showroom which serves new and pre-owned office furniture in the Kansas City area and beyond. Our knowledgeable staff will help guide you through the furniture buying process, regardless of your budget or style. For example, when choosing a desk, it is important to have a decent amount of surface space which allows many of your items to be within close reach. While a natural 'division' is a positive characteristic of an L-shaped desk, there can also be some 'dead space' towards the corner. However, did you know that a U-shaped desk solution allows ample surface space as well as a natural way to compartmentalize your work surface. Or have you thought about the traditional retangular-shaped desk? As the most common and versatile desks, traditional rectangular desks offer stability and flexibility without all the bells and whistles.
From new to pre-owned desk solutions, Santa Fe Office Interiors works with top brands like Mayline to supply our clients with options to fit any need. Instead of waiting weeks for delivery, come to our showroom and pick through thousands of options to find the perfect fit with the help of our knowledgeable staff. Owner operator, Jim Lust, has over 30 years of experience in the industry and is here to answer your questions. Come visit us and our inventory at our Overland Park location, located at 8106 Santa Fe Drive, Overland Park, KS 66204. When you are ready for your next office redesign or looking to furnish a new office space from Overland Park to Kansas City and beyond into Missouri or Kansas with pre-owned furniture, contact our team at Santa Fe Office Interiors at 913-901-8800. We are open Monday through Friday from 10:00am to 4:00pm and are also available by appointment to help fit your busy schedule.