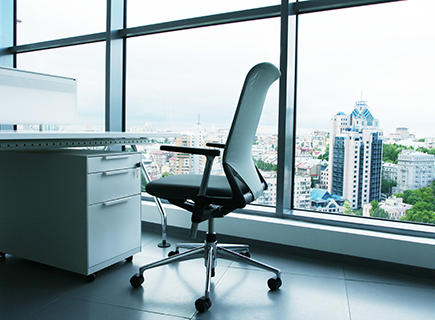 If you are in the market to boost office morale and, in turn, workplace productivity, look no further than the workplace environment. How your new and used office furniture is contributing (or hindering) your employee's day-to-day activity can be a telling sign of what you are doing right, and what you need to change. In fact, the CDC and business researchers contribute much of a company's productivity to economic-forward office environments. Contributing to tens of billions of dollars in loss each year is musculoskeletal disorders. What does that actually mean in the real world? Musculoskeletal disorders refers to injuries or pain in the joints, ligaments, nerves, tendons, and structures that support your limbs, neck and back. Spending 40+ hours each week in a chair, there is no wonder improper seating leads to work-related injuries and absences. When your employees and their workstations are cared for physically, an employee's mental-state is also cared for keeping them more engaged because they understand their employer cares about them and their health. At Santa Fe Office Interiors, we serve the greater Kansas City businesses with new and used office furniture and ergonomic seating solutions to help keep morale high and employees comfortable day in and day out. Our 9,000 sq.ft. showroom in Overland Park, Kansas is just the place to visit when you are looking to ditch the attitude that a chair is a chair, a desk is a desk, and office environment does not have a direct correlation to productivity.
Comfort equals energy and higher production
When your employees or yourself are tired and drained, productivity in the office suffers. One tell-tale sign of decreased productivity in the workplace is a lack of ergonomic seating options. When your employees have a comfortable seat that has options in tilt, height, armrest and lumbar support, it shows them that you care for their well-being. Not only that, but a comfortable employee spends less time fidgeting, taking breaks, or being distracted by their discomforts and more time on the job at hand.
Less distractions from uncomfortable seating
Imagine sitting in a stationary wooden chair or on a backless stool for hour after hour, day after day. This archaic office furnishing option may have worked decades ago, but that was before studies revealed that uncomfortable seating leads to distractions, pain, and decreased productivity over the long term. A healthy work environment is free from physical and mental distractions. Ever try to concentrate with a construction crew just outside your office window, or maybe a utility company coming into the office to make fixes in the middle of the day? Distractions are not limited to outside influence, but they exist even in the most quiet office settings based on the quality and type of office seating used by your staff. In today's world, buying a new or used office furniture set up and ergonomic seating from brands like RFM Seating, ES Robbins, Lorell, and Cherryman will go a long way in showing, not just telling, your employees you care about their wellbeing.
Reduce injury
It is estimated that in a single year, billions of dollars are lost from a lack of productivity related to the office environment. But it does not have to be this way with the latest technological advances in the ergonomic office furniture industry. At Santa Fe Office Interiors, we know what makes a good work environment and we know that seating is a huge part of keeping staff happy and productive day after day, year after year. Creating an encouraging and positive workplace environment is key to a successful business and our staff is ready to help reshape the way you approach interior office furniture and design. Not only will you be reducing stress and constant pain caused by a poor seating option, but with modern technology and quality manufacturing, these new and used chairs will last for a long time and can integrate into any office style.
The office seat is the command center of an office desk and should be comfortable, efficient, and provide the necessary support to minimize poor posture and fatigue, strain and stress in the workplace. Finding a quality build for that perfect chair at an affordable price can be a complex endeavour if you face it alone without prior knowledge or experience. However, with our professionals at Santa Fe Office Interiors, you do not have to face this daunting task alone. Nor do you have to break the bank to outfit an entire office. We offer both new and used seating options with incentives such as:
Buy 10 chairs and get a 10ft. conference table for FREE!
Buy 12 chairs and get a 12ft. conference table for FREE!
Buy 11 chairs from selected lines and get the 11th FREE!
SAVE 10% on RFM "Big & Tall" and "24/7" seating!
Improve oxygen and blood flow, ease back pain, and increase office productivity by visiting Santa Fe Office Interiors in Overland Park, Kansas where we are equipped to outfit any size office with new and pre-owned office furniture. The inventory at our 9,000 sq.ft. showroom is constantly changing to provide greater Kansas City businesses with furniture and fixtures for interior office spaces. Office design is no longer simply about finding a desk and chairs to match. Ergonomics play a huge role in the office environment and is an investment in your employees and future of your business.
When you are ready to get your next interior office project started and replace those old chairs with forward thinking manufacturing from the best brands in the industry, contact our team at Santa Fe Office Interiors at 913-901-8800. The showroom is located at 8106 Santa Fe Drive, Overland Park, KS 66204 and we are open Monday through Friday from 10:00am to 4:00pm. If those times do not work for you or you want to be sure you are meeting with someone specific, you can also make an appointment to stop by whenever it is convenient for you and your schedule. We are here to answer your questions and discuss everything from lead times to delivery and pricing.