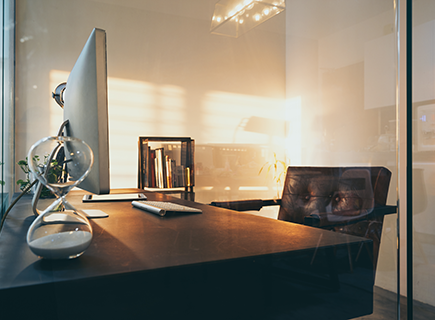 Spending hours inside is bound to hinder our physical and emotional side and can lead to unnecessary stress in a workplace environment. If you have ever spent time in the dark rooms of a library's archive, or have worked under fluorescent lighting in a basement office with little to no connection to the outside world, you know exactly the toll it can take on your mental state. It can be jarring, like seeing a movie in a theater when the sun is still out. Day after day, these often remote, sterile and uncomfortable office environments can play a lasting toll on physical and mental wellbeing. Not only that, but having a dark and secluded office environment can be detrimental to productivity levels. So how can Santa Fe Office Interiors help you change all that? Our staff has been working in the industry for decades, which means we know what works and what does not work in terms of healthy work environments. Want to brighten up your workspace in more ways than one? Welcome to the glass office partition solution. These portable, transparent walls of glass have benefits reaching far beyond simply allowing in natural light and physically brightening a space.
Reduce energy costs and increase morale
Welcome to 2019 where being responsible about your carbon footprint is more important than ever. How do you take on this responsibility? To start, businesses can begin making smart decisions regarding the consumption of goods and utilities. When you utilize a large space in an intelligent way, you allow light into more areas. This natural light can greatly reduce and even replace the amount of artificial light being used in an office space. Replace fake headache-inducing light with natural, mentally soothing sunshine and you will not only see an improvement in productivity of your staff, you will also see a decrease in utility bills. Glass partitions all light to enter a room and spread while allowing the privacy of a solid wall.
Create the illusion of having more space
Installing glass partitions in an open office instead of installing solid walls can give the illusion that a space with a small footprint is larger than it seems. Why block off and take up precious space with a huge clunky wall when you can work with the team at Santa Fe Office Interiors to expand and utilize that same space in the best way possible? Partitions provide the advantages and privacy of solid walls without isolating an area of your space.
Modern look and feel
Glass partitions throughout office spaces in Kansas City bring a modern look to a city with deep roots as a port city. Old buildings and spaces are made anew and repurposed into affordable work environments and glass partitions play a huge role in turning an old space into one that respects the architecture and history of the past while providing a forward-looking feel. There is a beautiful juxtaposition between a glass partition and the often brick, mill-type buildings that exist in many cities, including Kansas City. While solid walls often cover up this aesthetically advantageous feature, glass partitions can accent and highlight assets of an old space, transforming it.
Defines privacy while promoting interaction
Feeling included or part of a team is a leading factor in whether people enjoy and feel invested in their work. Solid walls and a lack of natural light can be isolating for many people. WIth glass partitions, an office environment is able to capitalize on the privacy a solid wall while promoting and encouraging inclusion and engagement through an open floor plan. Inclusions and engagement in the workplace means an increase in productivity, involvement, and camaraderie among staff.
Flexible Remodeling
Remodeling a commercial space, regardless of its size, does not have to be a daunting task that breaks the bank. While they can be an investment, glass partitions not only match many styles and aesthetics, but they will continue to maintain their value for years to come. Looking to change your office layout? With solid walls that dream can become a nightmare that lasts through months of construction while glass partitions can make it a reality overnight. The benefits of easily moving glass partitions means changing the layout of any space without incurring additional costs. Have a meeting and need a private space within a larger space? Have a larger space and need multiple offices with the option of privacy and reduced noise? Glass partitions are capable of creating both scenarios overnight. The upfront investment means saving money in the long run while essentially having a redecorating team at your disposal whenever you need a change.
Outfitting a commercial space is important. It is a reflection of professionalism, a physical representation of your business for guests, clients and employees. Having a well designed space means having an encouraging work environment that your employees enjoy and are able to maintain the highest level of productivity by promoting morale.
Our staff at Santa Fe Office Interiors serving the Kansas City region has seen it all through our decades-long time working with businesses and commercial spaces. From downtown to the suburbs and beyond, from large office spaces that feel secluded and cramped to small office spaces that feel like a million bucks, our team of professionals have helped businesses choose not only the best new and used furniture for their space, but also the best layout. Office design and the new and used furniture you use in the space, and how you use it, is critical for encouraging and promoting a healthy and productive environment for employees and clients. Reach out to our team at 913-901-8800 or stop by the 9,000 sq.ft. showroom Monday through Friday 10:00 a.m. to 4:00 p.m., or by appointment. We are located at 8106 Santa Fe Drive, Overland Park, KS 66204.