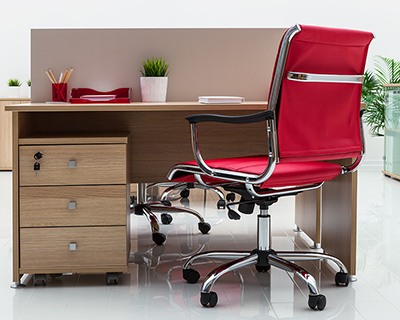 The office chair is the most important piece of ergonomic equipment because that is where you spend most of your time. During your working day. Not only is the purpose of the chair to help with fatigue throughout the day, but it should hold you in a good, neutral posture. This means your body is aligned in a comfortable, consistent way, with minimal to no strain, pain or discomfort. The benefits of an ergonomic chair and office set up can help you and your joints stay healthy throughout the work day. Both your body and your employees will thank you later for the seating decisions you make today. In your search for that next office chair or seating solution for you and your employees or guests, ask yourself what you are looking for and what style seating will fit your needs. There are typically three types of seating styles to choose from:
Seating Style Types
Designer chair
Designer-style chairs typically look really cool, but there is not much mobility or adjustability. It is a good chair to make an aesthetic impression for a short amount of time, but is not one you want to spend long hours sitting in.
Semi-adjustable chair
The semi-adjustable office chair is what the name describes: semi-adjustable. They typically adjust and have a few features for locking the chair into a chosen and customized position, but it is often limited to height and a few options for tilting.
Fully adjustable chair
The cream of the crop in ergonomic seating, fully adjustable office chairs mean you can adjust a range of features to customize the chair exactly to your preferred position and body comfort. This means having the ability to adjust the seat pan, tilt, the height, backrest, the depth of the seat, lumbar support, and the arm rest. Spending most days at the desk and looking to outfit your office space with seating that will provide you the most comfort? Fully adjustable seating is the way to go.
At Santa Fe Office Interiors, our team and showroom is ready to help you find the best seating options available at a price and style you are looking for. When visiting our Overland Park, Kansas showroom, having an idea of what you are looking for will help through the process. Let us dive deeper into the world of the office chair to give you a few helpful hints on your quest for the best chair. Sitting has been linked to depression, heart disease, Type 2 diabetes, muscle degeneration, back pain, and a whole slew of ailments. But what good is an ergonomic office chair or spending time looking for seating if its features are not being utilized properly? While shopping for your next seating solution, here are a few items to keep in mind:
Functionality
A good chair will have excellent lumbar support. What is lumbar support? Lumbar support is any kind of support which covers the lower back. The functionality of an office chair should provide you support through your head, torso, back and arms. We all have different body shapes and sizes, so the best chairs are able to adjust to fit your specific body type and level of comfort.
Support
When using an ergonomic office chair, your entire body should feel support over an extended period of time. Sitting with your feet flat and thighs parallel to the floor, your shoulders and forearms should feel relaxed at a 90º angle. If the chair is sized correctly and utilized as intended, it should provide the best possible support on the market.
Mobility
Being seated for hours at a time should not be painful. It should not be difficult to stand up nor sit down in your chair, and moving while seated should be effortless. Office chairs with quality functionality will complement this ease for mobility as the functionality and mobility go hand-in-hand with office chair design to ensure and promote the best possible support for your body. Having the ability to adjust your chair means customizing each aspect to help keep you relaxed throughout your seated work experience.
Look
From the designer aesthetic to a fully-adjustable chair, there are nearly endless styles of office chairs to choose from. Finding the best chair is not only limited to its support and functionality, but it should also match your office or workspace interior.
Seating Brands
RFM Seating: Based in Oregon, RFM Seating has become a leader in the chair manufacturing industry. Their inventory spans fully customizable ergonomic seats that promote a healthy and productive working environment. Fully customizable from fabric to seat size, back height arm options and more, RFM Seating orders regularly ship within 10 working days from their locations across the country with expedited options available.
ES Robbins: ES Robbins offers seating accessory solutions led through innovation. For over 50 years, they have been outfitting Santa Fe Office Interiors and commercial office spaces with items to assist the ergonomic office chair, such as clear mats so the chairs sit flat on any surface.
Lorell: Focused on style, function and affordability, Lorell holds their products to a rigorous and comprehensive standard, making them a leader in both low emission production as well as the manufacturing of quality seating solutions.
Cherryman: With a commitment to sustainability, Cherryman designs products for the long term. Built to last, their products promote mobility, strength and affordability while combating short-term consumption.
A good office chair is important and knowing where to look and what questions to ask will lead you to finding your best chair yet. Our showroom serves the greater Kansas City area with a team who is ready to help you try out each and every chair until you find one that fits you and your needs best. Swing in to check out the inventory at our 9,000 sq.ft. showroom or contact our team at Santa Fe Office Interiors at 913-901-8800. We are located at 8106 Santa Fe Drive, Overland Park, KS 66204. Open Monday through Friday from 10:00am to 4:00pm and are also available by appointment to help fit your busy schedule.