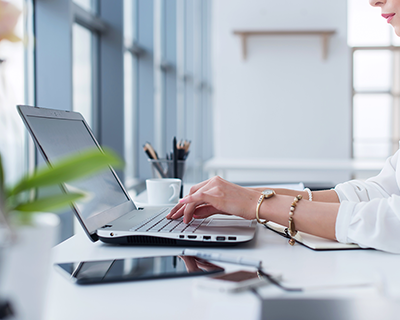 In our previous blog Ergonomic Office Tips for Staying Healthy, we noted that the average person will spend nearly 18 years of their life sitting down. And for many of us, much of that time will be sitting at a desk. While seating is an important aspect of your office environment, having the right new or used desk for the job is an integral yet often overlooked piece of office furniture. Buying new or used office furniture to outfit your commercial space in Kansas City is more than simply walking in and finding something that has visual appeal. At Santa Fe Office Interiors, we have been furnishing office spaces with everything from desks and chairs to office partitions and furniture throughout the greater Kansas City region of Missouri and Kansas and we have been doing it since 2005. As a pillar of historic Overland Park, Kansas, Santa Fe Office Interiors owner Jim Lust has worked in the office furniture and design industry since 1985. During the past two decades, he has helped outfit office spaces large and small while helping business owners save. For desks, it is important to focus on features beyond simply the look. Desks from Express, Lorell, Cherryman, Conset, Think Global and the Harmony Collection are just a few brands which provide the level of sturdiness and functionality necessary when looking for your right style office desk.
Desk structure and why it is important
When choosing a new or used office desk, sturdiness, look, functionality and height all play important roles. After all, you do not want to purchase a new or used desk that does not look good or fit your office's overall aesthetic vibe. Nor do you want to waste your budget on brands and material that are of poor quality you will have to replace sooner rather than later. The ergonomics, if you will, of the desk encompasses nearly all of these elements and working with the team at Santa Fe Office Interiors means working with a team of professionals who can lead the way to quality brands you can trust will last for years. From wood to glass to laminate desks, they all come in many shapes and sizes and styles, it should be clear that a desk is more than simply a flat surface. Some factors that lead to choosing the right desk are:
Viewing angle should be no more than 35º from your computer screen
The monitor should be placed flat directly in front of your face with no tilt
Most desks are 30-inches high, but make sure your desk height works for you
Space underneath a desk is important to fit your legs and a chair
Build Style
Sit-stand desks- Allow for a versatile setup to fit your physical needs. Sit-stand desks often come with motors, hand cranks, or hydraulic systems to raise and lower the desk height depending on preference.
L shaped desks – L-shaped desks have a decent amount of surface space and allows many of your items to be within close reach. While a natural 'division' is a positive characteristic of an L-shaped desk, there can also be some 'dead space' towards the corner area and does not provide as much division or space as a U-shaped desk.
U shaped desks – With U-shaped desks, they allow ample amount of surface space as well as a natural way to compartmentalize your work surfaces. It can be a great use of space if two people are sharing the desk, however, it can also make a larger footprint in a commercial space than most traditional, minimal desks.
Traditional rectangle shape desks – Often the most common and versatile desks, traditional rectangular desks provide stability while also allowing flexibility. Because these desks do not take up a lot of space, they can fit into most room layouts. Unfortunately, the space can fill up rather quickly.
Corner desks – Corner desks are flexible and fit into often difficult shaped rooms. Thinking about putting a desk in that unused corner, these are perfect for those nooks in kitchens or living rooms. The downside of corner desks are you typically face, well, a corner. Your back is to the room and there can be a loss of surface space depending on what is on your desk.
Desk Brands
Express: The Express brand varies widely with desks and storage solutions. Their desk favors modular and custom designing, allowing for custom layouts to fit any interior commercial space.
Lorell: Function, quality and style are all affordable through Lorell. This brand is great for businesses looking to design a space through quality products that come with a warranty.
ConSet: ConSet offers a line of adjustable height desks, putting a spin on traditional style desks. There desks provide options for those looking to stand as well as people looking for a wheelchair-friendly desk solutions.
Cherryman: Cherryman's interior design and styles fit spaces large and small. From their Ruby and Jade line to their Amber line, they produce quality furnishings from a variety of material.
Think Global: Modular panel and desk systems are Think Global's specialty providing the ability for customized individual workstations to larger team areas. Their desks are ergonomic-forward systems focused on utilizing space.
Harmony Collection: Functionality and quality, Harmony Collection knows how furniture can transform a room and provide balance.
At Santa Fe Office Interiors, our Overland Park showroom provides the greater Kansas City area with options for new and used desks. Our team of professionals are ready to help transform your office space into a productive environment for your business. Swing by our showroom location at 8106 Santa Fe Drive, Overland Park, Kansas 66204. We are open Monday through Friday 10:00 a.m. to 4:00 p.m., or by appointment.