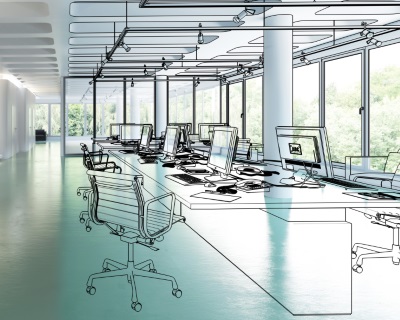 The average person will spend nearly 18 years of their life sitting down. When we think about most of our waking day sitting in an office for 8+ hours a day at 40+ hours a week, that is not hard to believe. However, the latest addition to office furniture design to combat a sedentary lifestyle at work are ergonomically designed chairs for your workspace. What is an ergonomic chair? An office chair is classified as an ergonomic chair when they have an adjustable seat height, depth and lumbar support, all to complement and support spinal alignment and encourage good posture while seated.
Health Benefits
The benefits of an ergonomic chair and office set up can help you and your joints stay healthy and comfortable at work. Just because you may be sitting for hours does not mean it will inevitably take a toll on your body. With the right ergonomic chair from your greater Kansas City office furniture center, you are on your way to reaping a few of many lasting health benefits, such as:
Maintaining good posture keeps your spine in alignment
Ergonomic-friendly office furniture promotes healthy joint and ligaments
You will feel more energized during and after work
Proper body alignment helps with digestion
Increased productivity and positivity
When setting up your ergonomic-friendly office space, choosing the right furniture is important. Between the desk, keyboard, mouse, chairs, monitor, and possible footrest, there are a lot of factors to take into account for each item. But with a lifetime of sitting, the benefits far outweigh any time it will take to get aligned. To insure you are maximizing the benefits of your ergonomic furniture, keep these tips in mind:
Set the monitor at arm's length away
When using a keyboard, keep your wrists straight and hands at or below elbow level
Be sure to adjust the height of your chair so your knees are about level with hips
Choose a chair that supports your spine and spinal curves
Trends
As productivity decreases and healthcare insurance costs grow, maintaining and promoting a healthy work environment is key to the future of any business. The Washington Post recently published an article highlighting research that suggests employees should be somewhat active and moving for roughly 2 out of the 8 hours they are working, instead of sitting down. How is this different than the past? People are getting smarter about their health, about how they work, and about their own identity not being tied to their job. The working world is changing and with it, the environment in which this work is being carried out. With collaboration on the rise, so is the use of a more open, social-friendly work environment. But do not confuse this new sense of freedom with relaxation or inefficiency. Quite the opposite and that needs to be taken into account when designing a workspace for the future workforce. Mobility in the workplace is being favored more and more as we see the traditional brick-and-mortar business model changing, yet, having a dynamic workplace is an encouraging and alluring asset for a business who is trying to attract as well as retain employees. From ergonomic chairs to adjustable desks to partitions and furniture that favors an ability to change the environment and layout of a space, our team at Santa Fe Office Interiors is ready to bring you up to date on the latest and greatest in office furnishings.
Types of Ergonomic Chairs
From the executive chairs to the task or computer chairs, ergonomic function is found throughout a range of style and production level. Big and tall chairs and conference chairs as well as kneeling chairs can all be outfitted with the principles of ergonomic functionality. While choosing a new or used ergonomic chair for your next office or commercial space, a few aspects to think about are:
Seat depth adjustment
Knee tilt adjustment
Ability to raise and lower the height of the seat
Is there a lumbar support for your lower back
Each ergonomic chair comes with varying sets of adjustable options and knowing the best one for your needs is important.
Brands
Santa Fe Office Interiors supplies the greater Kansas City area with new and used ergonomic office chairs that accommodate all shapes and sizes. Not only do we house seating solutions in our showroom, we also work closely with some of the top brands in the office furnishing industry including:
RFM Seating: For over 35 years, RFM seating has brought chair manufacturing from a one-man show to a leader on the global stage. They specialize in fully ergonomic office chairs promoting the health benefits and productivity expected from both employers and employees.
Lorell: They are a furniture manufacturer who focus on products with style, function and affordability. Taking a common-sense approach to office spaces while holding their products to a rigorous standard for low emission production.
Cherryman: This is furniture with a wide selection of commercial office options through a commitment to sustainability and long-term use to decrease the mentality of short-term consumption. Their seating line comes in an array of styles to choose from and promotes ergonomic functionality such as synchro-tilt and seat slider adjustments.

At Santa Fe Office Interiors, we serve the greater Kansas City area and beyond to parts of Missouri and Kansas. Owner operator, Jim Lust, has over 30 years of experience in the industry and runs a team ready to answer your questions. Come visit us and our inventory at our Overland Park located at 8106 Santa Fe Drive, Overland Park, KS 66204. We are open Monday through Friday from 10:00am to 4:00pm and are also available by appointment to help fit your busy schedule.