High-Quality, Ergonomic Office Chairs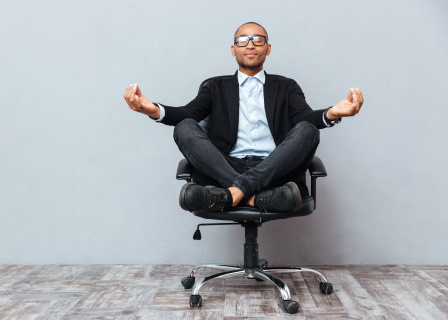 Quality seating is the cornerstone of any home or commercial office space. After all, this is going to be the piece of furniture you're going to sit in for at least 40 hours a week, so you might as well be comfortable. That's why the team at Sante Fe Office Interiors has been a longtime advocate and trusted retailer of RFM Seating and its products.
If you're not familiar with the brand, RFM Seating started out as a one-man operation and has now been in business for more than 40 years. They are best known for creating fully-customizable, ergonomic seating for the diverse and modern workforce. Their products cater to all shapes and sizes, ensuring that you'll be able to find that perfect chair with the support you need in the style that you love.
RFM seating manufactures some of the best office chairs in the industry, providing countless workers with the comfort that they need so they can be at their most productive.
The Science of Seating
When it comes to manufacturing the best home office chairs, RFM Seating takes the scientific approach. Every chair is ergonomically engineered so that it can provide comfort and support to whoever is sitting in it. How they accomplish this is by making the chairs so that they can be modified by the user for an optimized seating experience. Examples of RFM Seating features include:
Patented swing-away arms
Body-fitting contouring materials
Fully-adjustable height
Air lumbar support cushions
RFM Seating's state-of-the-art office chairs are built with exacting standards to promote the utmost comfort in the workplace. Not only do all chairs meet or exceed ANSI/HFS standards, they also come with a 12-year warranty, which is much longer than what most other office chair manufacturers offer. When you invest in RFM Seating, you can count on getting a reliable and durable product.
Several Seating Options and Styles
Another reason why we love RFM Seating is because of all the variety and styles of chairs that they offer. In this industry, the success of your product is ultimately determined by quality and how many different types of customers you can cater to. RFM Seating manages to tick all those boxes, offering several seating options and styles for any worker in virtually any industry.
RFM Seating is able to provide chairs for active environments, such as medical offices or sales floors in which movement between workstations is more common. It can also provide regal styles of seating for CEOs, executive board rooms, and other environments in which a little more pomp and circumstance is required. The huge advantage Santa Fe Office Interiors has gained as a result of being a retailer for RFM Seating is that we're able to offer chairs for all tastes, settings, budgets.
The main five styles we offer are:
Bariatric: A luxurious and finely crafted line of chairs designed to provide unmatched comfort, especially for big and tall customers. Some models can accommodate up to 500 lbs.
Conference: Sleek design meets customization. This is a great chair for any cubicle or office, and comes in several different designs to ensure it aligns with your aesthetic.
Guest: A simple and stylish seating design that is perfect for those looking for a lower cost seating option.
Mesh: Elegantly designed and highly durable. This line of chairs uses a mesh back for superior ergonomics and comfort.
Stools and Task: For those that need a specialty chair capable of seating tall individuals or those who clock in long hours at their desk, the stools and task line has several seating solutions.
Find Your Next RFM Seating Office Chair at Santa Fe Office Interiors
Let Santa Fe Office Interiors help you find the perfect chair for your commercial or private home office. Not only does RFM Seating carry the most durable, comfortable office chairs with the best warranty, they're also a MAS Certified Green company per an independent emissions testing program.
The best way to shop for RFM Seating office chairs is by visiting our store at 8106 Santa Fe Drive in Overland Park, KS. Our friendly staff can help you pick out the perfect chair and any custom options you may require. Or, you can shop for RFM Seating office chairs on our website.
Most orders will ship within 10 working days. However, RFM Seating offers a QuickShip program where you can get your order within 48 hours. Feel free to call us 913-901-8800 for any questions about RFM Seating or to place an order.