Santa Fe Office Interiors in Overland Park, Kansas can help you upgrade your office to better operate for you!
If you are looking to upgrade your office furniture, Santa Fe Office Interiors is the place to go. Santa Fe Office Interiors is home to new and pre-owned furniture. With a 9,000-square-foot showroom that is constantly changing, you can for sure find what you need to make the most out of your office when it comes to functionality and productivity.
Making Your Space Safe With Partitions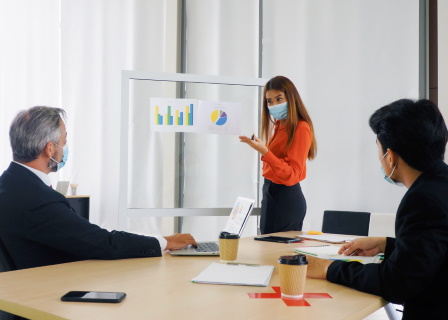 If you're still working in commercial office interiors with close co-workers or clients, making your space safe is of the utmost importance during COVID-19. Of course, make sure to check the Center for Disease Control website before you make any final decisions on partitions to ensure your office is up to the proper CDC guidelines.
If your office currently does not have cubicles or partitions of any kind, finding used partitions at Santa Fe Office Interiors is a great way to add privacy to workspaces. Partitions can also help prevent the transmission of COVID-19 infections, since the virus can travel through the air in respiratory droplets when someone sneezes, coughs, or even talks.
By creating a safe space in your work area, you create a welcoming sense of comfort which can lead to an increase in productivity.
Creating a Distraction-Free Area
While we're talking about partitions, not only do they create a virus-free (flu and COVID-19) but they also create a work area free of potential distractions from co-workers (or your family if you're able to work from home!).
Finding new or previously used office partitions at Santa Fe Office Interiors is simple. Santa Fe Office Interiors has stand alone partitions or if you are low on space you can also find partitions that attach right to your desk. There are plenty of options for what will fit you and your workspace.
Office Storage Problem Solvers
Having an organized office benefits you in many ways. Reducing stress, encouraging your co-workers to have an organized space, easily finding things, saving time and money, and creating a more inviting space for you and your clients and co-workers are just a few of those benefits you can gain with having an organized office area.
By having your office storage problems solved, this also helps with pushing out unneeded papers, books, and other office supplies you might be holding on to for no reason. With filing systems and other organizational tools there are at Santa Fe Office Interiors, you can finally weed out what you don't need to make room for more important things and a way to find those easier.
Santa Fe Office Interiors has a wide array of organizational office furniture that works for functionality as well as looking great. Between a modern style or a contemporary style, you can find the right office storage solutions to fit your style, space, and aesthetic. Stop by the showroom or call to start looking at storage problem solving options that are right for you.
Secondary Office Seating
Creating a smaller, secondary seated part of your office can work for many reasons on multiple levels. By having a small seating area, you create a more inviting space to your clients, other co-workers and also yourself. With an inviting space, you're more energized to be more productive and get more stuff done.
With creating this alternate working area, you are able to change up the pace for yourself when you get stumped at your desk and lose inspiration. Changing up your environment is proven to show an increase in your productivity. Use your current conference table chairs to make what used to be a large group gathering area into smaller seating zones.
With the many options at Santa Fe Office Interiors, you will definitely be able to find office furniture that will work for you and make you feel more excited and ready to work.
Credenzas Vs. Tabletop Organizers
A credenza is a low table that is usually placed behind your desk, out of sight. Credenzas are perfect if you want things out of sight to your clients and co-workers.This is the perfect place to perch printers, papers, and other potential eyesores. Without these random distractions in your office, this creates a more productive working environment for you and others around you.
If a credenza just is not your style, fun organizing systems that are positioned on top of your desk can be a fun alternative and a functional way to show off your organization. Pairing these small organizational systems with a nice bookshelf in your office would work well in place of a credenza. With the choice of a bookshelf and small desk filing systems, this opens up more room for small decorations and to create a more personalized space.
How You Can Get Started
Beginning your office upgrade is as simple as picking up the phone and calling the professionals at Santa Fe Office Interiors. Making a game plan, though, can make things a bit easier.
Take measurements of your home or work office.

This includes the measurements of the office furniture that will be staying in your space.

Plan out your space with your clients and co-workers in mind.

Creating that inviting and safe feeling environment creates a productive and welcoming space for everyone, including yourself.

Make a list.

Make a list of your dream furniture pieces or even of the office furniture you already know you want.

Make a budget and stick to it.
If you are ready to take your office to the next level, you can contact one of the awesome team members at Santa Fe Office Interiors at 913-901-8800 and talk with one of our experienced industry experts. Even if you are just ready to talk ideas, or if you're ready to discuss delivery times, we are here to help. If you would rather come into the shop and see what your options are, you can visit the showroom at 8106 Santa Fe Drive, Overland Park, KS 66204. The showroom is open Monday through Friday from 10:00am to 4:00pm. If you would rather set an appointment, you can make an appointment here when it is convenient for your schedule.