The COVID-19 Pandemic Forces Creative Office Furniture Reconfiguration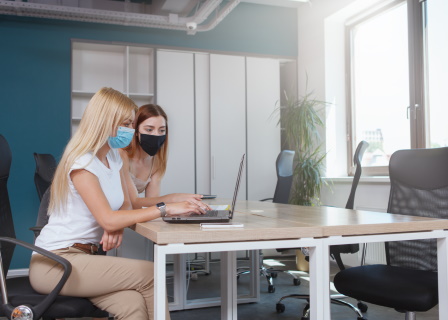 A challenge we never saw coming has us re-evaluating everything that we do, how we act and our spaces. Our spaces have transformed this year. We've created offices in our dining rooms, in our bedrooms, in our closets, and we've revamped home offices to be more comfortable – because that's where we're spending ALL our time. Commercial office spaces have started to be reimagined too – and we're just beginning. If your space at home has seen a lot of changes this year – it could be time to consider the changes that will be made when we inevitably "all" head back to the office. Or, if you're already heading into the office every day, maybe there are some changes that need to be made to make things more comfortable and safe for all employees.
Office Space in Kansas City
Along with our residential office spaces, we are also rethinking our commercial office spaces now. While we can't help make your office in Kansas City larger, we can help rethink your office interiors so that it feels like there is more space. Sometimes, rearranging office chairs and tables can make an office interior feel much larger, and give employees more space to breathe clearly. If your office space allows, this is an easy way to help employees feel safer and not as confined with their coworkers.
Another way to add more space to your office interior in Kansas City is to invest in smaller desks. While employees could still be sitting the same distance apart, the space between the smaller desks is larger allowing more flow around the room. Downsizing office furniture could also allow you to downsize needed office space. Santa Fe Office Interiors has experts that will help you figure out the best layout and best office furniture for your office space as things return to what we once thought we had figured out.
Commercial Office Partitions
Commercial office partitions are another option for reimaging the commercial office space. While you may not be able to physically put up walls within your office space, you may be able to add partitions to your space to serve as temporary walls and give employees the safety of a solid surface. A partition is a temporary wall that can be moved or rearranged to personalize the space as needed. Partitions can be a less expensive way of downsizing space, as well as decreasing energy costs with less space to heat and light. Partitions can be helpful in large office spaces, but also in small ones, in creating more privacy and increasing safety for employees. Where open office interiors may have been the norm before, changes happen and we're pivoting to help you tackle that open office space and make it a safe space for you and your employees alike. Our team can help you find the right size partition to maximize your office space as our work culture continues to change over the next few years.
Rethink In-Person Worklife
As we continue to become more and more connected online, programs for managing a remote team have been getting better and better. COVID-19 only exacerbated the need to connect better online and remotely. We've adapted this year, and employees are adjusting to work from home as needed, despite the distractions. Finding the best talent is going to be a challenge in the upcoming years. If you're hoping to attract that talent, it will be important to consider how that person works best, what times they work best and even – yes, even where they work. It will require being flexible about where that person needs to work. Some of the best talent may not need you to consider a corporate office interior solution, but may appreciate a stipend to set up their own work at home set-up, or improve their current one. Speaking of work-from-home talent, this could allow you to use your office space in a different way. If more people are working from home, your in-office employees have more space to use and spread out, and you may be able to downsize your office space needs, add more partitions, and other options that can help people feel safer as they go back to work.
Professional Organization Priorities
There's lots of elements of the traditional office that don't make sense going forward. Community kitchens and large meeting rooms won't work in the future of commercial office interiors. It's time to rethink the way we collaborate, the way we brainstorm and the way we spread information. Our perspective on collaboration has changed, and that means our office interior solutions have to change, too. What could you adjust within your operations beyond chairs and tables to adapt your office space to the changes we're seeing and will continue to see in the next few years?
Reimagine Your Office Space
With the changes we're seeing in the workplace, now is our time to shine – with a creative use of office space. Just like the open office was ground-breaking over a decade ago, the solutions we create now in Kansas City to adjust to a new few of the workplace will be our impact on work culture for years to come. Whether it's utilizing our office space in a different way, downsizing office spaces to adjust to a more work from home culture, or moving solely online and supporting our at-home workforce in a bigger way, our options will affect the safety and comfort of our employees. Our team can help you work out the best solution for your team and office space, but we highly recommend checking in with your team and finding out what works best for them as well. What safety precautions would they like to see put in place? What is more important to them? Do they need a space away from home to get work done, or do they have a productive home office set up? The makeup of your team and their work experience should impact the creative office space solutions you come up with for your team. If reimagining your office space sounds expensive, consider some of our used office furniture in Kansas City. Used office furniture is a great option for reconfiguring on a budget. Once you've established the majority of your team's priorities in the workspace – you can't please everyone – contact our team at Santa Fe Office Interiors to put together the right set up.