Tips to Purchasing the Perfect Office Chair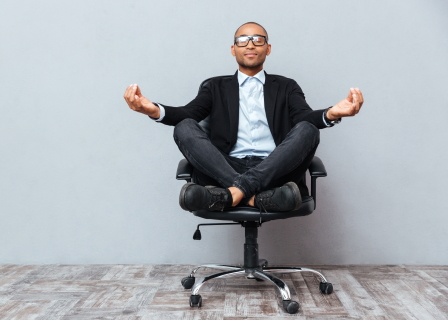 Choosing an office chair is a bigger decision than you may realize. After all, this is the piece of furniture that you were going to be sitting in for at least eight hours a day, five days a week. That means that roughly 1/3 of your workday is going to be spent in this specific piece of furniture. You could almost argue that choosing an office chair is almost as important as choosing what type of mattress you sleep on or the couch that you sit on at night.
Here at Santa Fe Office Interiors, we have learned a lot about the pros and cons of office furniture. One thing is for certain: if you are uncomfortable in your office chair, then the workday is going to feel longer and more challenging. That's why choosing the perfect office chair is one of the most critical decisions you'll make as it relates to your career. A comfortable worker is a happy worker.
So, how do you choose the right home office chair for you? What are the things that you should look for? Let's break this down.
Tip #1 – Always Aim to be Ergonomically-Correct
When shopping for office chairs you're going to hear the term "ergonomically-correct" a lot. That's because it's one of the most important features of any given office chair that you could potentially purchase.
For the uninitiated, ergonomics is the practice of designing equipment and furniture to fit the needs of the worker. As you already know, office workers come in all shapes and sizes. They are different heights, different weights, and have different sensitivity points in their bodies. Due to these differences, there is no one-size-fits-all office chair that can meet the needs of every individual office worker.
This is where the role of ergonomics chairs really comes into play. By designing a chair that is fully adjustable and customizable to the person, this allows for their body to be in the most neutral position possible while seated. To break this down, the chair should allow the person the following when sitting:
Arms and legs at a 90-degree angle
Feet resting comfortably on the floor
Able to type with wrists straight and parallel to the floor
Lumbar fully supported
Height adjustable so that monitor is at perfect eye level
Ample cushion in the seat bottom for comfort
When choosing your office chair, make sure that the chair offers the ability to adjust it to your specific body type and needs. By going with a chair that is ergonomically-correct, you decrease the chances of any musculoskeletal issues or needing to prematurely replace the chair for a better model.
Tip #2 – Don't Forget About Customization Options and Aesthetics
When shopping for office chairs in Kansas City, it can be easy to forget that they can be customized to fit your needs and specific design aesthetics. The advantage of shopping for new and used office chairs at a place like Santa Fe office interiors is that we can change the fabric and construction of the chair.
For instance, if you want to change the material of the backrest from brown leather to black mesh (for breathability), we could do that. We can also adjust the height of the chair, the lumbar support, the width of the armrests, and anything else that pertains to the ergonomics of the chair. The chair that you want is only limited to your imagination.
Tip #3 – Try Before You Buy
One of the big potential hazards of shopping for office chairs online is that you don't get to try it before you buy it. Even if a chair has hundreds of five-star reviews, there's still a chance that your experience may be less than ideal. This means that you'll either have to go through the hassle of returning it or sitting in a chair that is not completely comfortable.
What we recommend when shopping for new and used office chairs is that you take the time to go visit a store in person. That way you can sit in several office chairs and find that perfect fit for you, which greatly reduces the chance that you'll need to return it.
Although sites like Amazon have an almost infinite selection, they have still not been able to provide customers with an accurate try before you buy experience.
Get Your New or Used Office Chair Today at Santa Fe Office Interiors!
At Santa Fe Office Interiors we have literally hundreds of different types of office chairs for all shapes and sizes of office worker. Not only that, but we can also customize your new or used office chair to see your specific needs and design aesthetic. And since you would be doing your shopping in person, that means that you're going to save money on any potential shipping costs that you would normally occur through an online purchase.
If you're ready to start shopping for your new office chair, the quickest way to do that is by visiting Santa Fe office interiors today at 8106 Santa Fe Dr. in Overland Park, KS. One of our friendly sales associates will be happy to show you our wide selection of office chairs and help you pick out the perfect one that is both ergonomically-correct and within your budget.