Four Advantages of Shopping Offline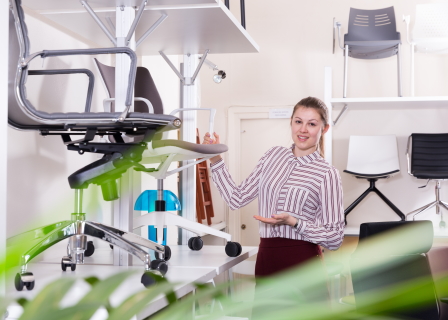 We've all had this happen to us at least once. You go online to shop for something – perhaps a shirt or a pair of shoes — and then when it arrives in the mail, it's not exactly what you thought it would be. Either the size is wrong or the quality of materials isn't what was advertised. Even when basing your decision on hundreds of glowing reviews, bad purchases can and do still happen. In which case, you just have to hope that the company's return policy allows for a full refund or exchange. No matter how small the item is, sending things back is still a bit of a hassle.
Shopping online is super convenient, but only if the item is EXACTLY what you were expecting. When it comes to shopping for new and used office furniture in Kansas City, there are a lot of attractive options online. However, none of them allow you to physically see what you're about to buy before purchasing, which adds a bit of a risk element. When it comes to buying office furniture, it just makes more sense to do it in person. Here are four reasons why you should shop local for office furniture.
#1 – Try It Before You Buy It
No matter how good the description of an office chair or a desk is on Amazon, it will never compete with actually being able to sit and interact with these items in person. You will not know how it feels to sit down in a specific office chair until you do it yourself, which is why trying it before you buy it is at the top of our list.
Think about it: you are going to sit in your office chair for at least eight hours a day, five days a week. With a purchase like this, it makes sense to take the time to go into a store and try out a few chairs before you decide. The same can be said for a new desk purchase. If the desk or chair is uncomfortable, not ergonomically correct, or not a good fit, you're going to know immediately. This is a distinct advantage that in-person shopping has over online shopping.
#2 – Minimize Chance of Return or Exchange
If you bought your office furniture in person, chances are, you were happy with it when you left the store. The same can't be said for a lot of online purchases, especially when it comes to office chairs. In fact, a recent study showed that 30% of the items that are being bought online are returned compared to that of 9% that were bought in a brick and mortar store.
By buying your new or used office furniture in Kansas City at a local retailer, you are roughly 20% less likely to need to return or exchange it. In the end, shopping locally ensures that you'll save time and any potential hassle you'll deal with when doing a return.
#3 – The Quickest Shipping is No Shipping
Even with the benefit of Amazon Prime or expedited shipping, the fact of the matter is new and used office furniture is still going to take time to get to your doorstep. At minimum, your order will arrive in two days (likely more). That's pretty quick, but not as quick as same-day.
When you shop for new and used office furniture in-person, whatever you buy you get to take home with you immediately. Additionally, because you're shopping in person, that means that you're not having to pay for shipping costs. Since a lot of shipping costs are determined by weight, this can end up saving you a good amount of money in the long run on your office purchases.
#4 – Customization Options
When you buy new and used office furniture online, you're more or less stuck with the choices that they have available. The option to change or adjust things to your particular needs isn't widely available. In the event that customization is available, tailoring the piece to your specific needs can be difficult to do in an online setting.
When shopping for office furniture at a store, it's a different story. Since you will be working with an experienced associate live and in person, this makes the customization process far easier. You can sit in an office chair and tell them the exact types of adjustments that you want to make to the piece. They can add more lumbar support, thicken the seat cushion, or adjust the width of the armrests. The beauty of working with someone in person is that they can apply your direct feedback.
Shop for Office Furniture Now at Santa Fe Office Interiors
Now that you know the benefits of shopping in person, the next step is to find the perfect chair, desk, or other piece of new or used office furniture that you need. Simply stop by Santa Fe Office Interiors and we can show you our wide selection of furniture from the industry's top brands. You can try before you buy and we'll even add customizations to the piece so that the fit of your new office chair or desk is perfect for you.
We are located at 8106 Santa Fe Dr. in Overland Park, KS. Or, you can give us a call at 913-901-8800 to set up an appointment with one of our sales associates.