Get to know one of the best office furniture brands out there
Looking to create an office environment reflective of your company's vision and professionalism? Lorell Furniture always has style, function and affordability in mind, offering quality furniture for your office interiors in the Kansas City metro area.
Who is Lorell?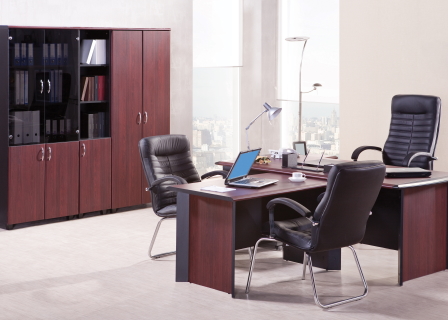 Firstly, Lorell provides you with furniture integrated with quality innovation and design, without the high cost you see in other brands. Whether you're looking for traditional to modern, contemporary to transitional, Lorell has a varied offering of furniture to reflect your business.
Lorell offers a large variety of office-related products including office desks, suites and chairs. Lorell products come with a limited warranty to cover replacement parts or replacement of the product. Each product is subject to a different warranty coverage.
Lastly, Lorell's furniture is manufactured all over the world, with more than 50% of the products built here in the USA. A participant in the Greenguard certification program, Lorell makes sure their products meet rigorous and comprehensive standards for low emissions production and reduction of volatile compounds.
Desks, chairs and office suites
Whatever your working space (a reception area, open collaborative employee space, or even an executive office suite), Lorell offers a variety of office suite and desk furniture that is functional and styled right for your office interiors.
Personalize your office suite to you! Lorell office suite series come in a variety of styles and colors, which offer flexibility and functionality.
One of the main items of office furniture that is recognized not only by employees, but by guests and potential clients are chairs. It is important to choose the best seating that not only encourages comfort, but productivity and of course style. Lorell has chair solutions for your space from executive-level chairs designed for top comfort to easy storage folding plastic chairs with functionality at the top of mind. The full Lorell seating line offers upholstered or breathable mesh seating options that create the perfect blend of comfort and design. Many of Lorell chair models come with a tilt and height control mechanism for optimal comfort throughout the work day.
Check out the Lorell Woodbridge Chair Series! These chairs have a managerial look and feel, coupled with high-back mesh and customizable fabric seats, bringing a task-oriented feel to your office interior.
Second to chairs, would be your desks. Whether you are outfitting a small office space or a large building, having desk options with modular capabilities is what you need (and what Lorell provides). As we all know, office workers are at their desk for a majority of any working day. Unfortunately, a result of this, and sitting for too long in general, is an increased risk of diabetes, heart disease and even a decrease in life expectancy. It is more important now than ever to offer solutions for employees to change up their position throughout the day – from sitting to standing. Lorell offers adjustable desk or monitor risers, as well as ergonomic keyboard trays.
Check out the Concordia and Ascent Desk Series! The Concordia offers both a collaborative open-environment work area, as well as a private space and the Ascent offers a contemporary-style laminate finish with a more private executive look.
Pre-owned desks are also an option! Read more below on how Santa Fe Office Interiors can help supply your business with budget-conscious used office furniture.
At any budget – Santa Fe Office Interiors
Designing and outfitting a commercial space, regardless of the size, can be overwhelming not only in a project sense, but financially. You shouldn't have to forgo quality furniture like Lorell's in your space if you are on a budget. Santa Fe Office Interiors helps business owners, both large and small, save money. You don't have to buy new office furniture, outfit your business with pre-owned Lorell office furniture – keeping the same quality, but saving the money. Used office furniture is an option for you.
We'll help you out!
Now that you've heard all about Lorell and what they have to offer, come check out their style and diverse inventory in person. Visit Santa Fe Office Interiors' 9,000 sq. ft. showroom to see the various price points and stock for yourself in Overland Park, Kansas. Santa Fe Office Interiors has a team of professionals ready to help choose the best furniture and office accessories for your space. Reach out to our team at 913-901-8800 or stop in the showroom Monday through Friday 10:00 a.m. to 4:00 p.m., or by appointment. We are located at 8106 Santa Fe Drive, Overland Park, Kansas 66204.