Santa Fe Office Interiors helps your employees furnish their home offices
The home office is no longer a thing of the future. With many businesses moving their employees to "work from home" during the pandemic, a year later, many have made their homes their permanent office. Help your employees make this transition with Santa Fe!
Current status of "Working from Home"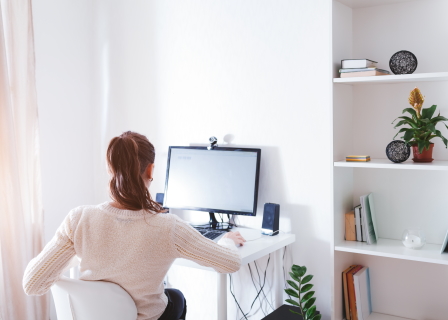 The COVID-19 pandemic changed many things for the world. There was a focus on protecting ourselves and each other from a spreadable illness with social distancing and mask wearing; and a decrease in the number of face to face interactions we were used to having each day. Commuting into the office and spending your work day in the office, at your desk and with your coworkers, was no longer the case. Many employers responded to the pandemic by asking their employees to work from home, if possible, and changing over to technology-based communications such as Zoom or Teams.
A year after the pandemic, some employers have asked employees to come back to the physical office on a scheduled basis, but many are choosing to continue to have employees work from home. They have seen not only an increase in productivity, but improvement in the health and wellbeing of employees who have been able to take advantage of a better work-life balance.
The comfort of the corporate office space
While many employees view working from home as a positive, some miss the office interiors and the "normalcy" of coming to an office everyday and collaborating face to face with coworkers and colleagues. An office can create structure for people, from the commute into the office, to getting your morning coffee and catching up with friends, to going to your desk and knowing how everything is set up. There is a comfortability in knowing you have all of the equipment and office furniture you need to function and be productive at your job. Over the past year, there has been the need to replicate the feeling of the corporate office space within the home. While this cannot be done 100%, having a workspace that functions similarly to how it may have in an office helps to increase productivity.
Creating your home office
With the formerly mentioned positives of working from home, it is important that, no matter where an employee is located, their working environment is comfortable and functional in order for them to have a productive work day. A common complaint of someone working from home may be that they are not located in an ideal setting, maybe in their kitchen or living room. Employees need a dedicated area with functional office furniture and equipment for them to do their jobs. To create this space, employees only need a few pieces of furniture:
Home office desk
A staple piece of furniture for a home office is a desk. A desk can house computer equipment (monitors, laptops, printers, etc.), organize paperwork and is ultimately your workspace. Employees should choose a desk that matches their at home style and decor, but allows them to be productive in their space.
Home office chair
Even though employees are home, they still spend a majority of their time sitting. While it's important for employees to get up and move around throughout the day, it's also important to have a chair that provides support and comfort while they are sitting. Who can be focused and concentrated when they aren't comfortable?
How Santa Fe Office Interiors can help
Provide your employees with the ability to turn their home into a true home office. Office interior (whether at home or in an actual office building) is important for your and their success.
Santa Fe Office Interiors works with you to provide home office furniture for your employees. From new office furniture to used office furniture, employees in the Kansas City area can count on Santa Fe Office Interiors to create a home office that mirrors what they liked most in a corporate or physical office, that also has a personal at home-touch.
More importantly, Santa Fe Office Interiors understands that no home office is one size fits all. Santa Fe Office Interiors prides themselves on their inventory selection. For example, Santa Fe Office Interiors offers over 50 different types of chairs to suit your employees needs. Inventory is constantly changing and new pieces of quality used and sample furniture arrive daily. Contact the Santa Fe Office Interiors team at 913-901-8800 to speak to an expert about outfitting your employees with quality home office furniture or have them visit the shop to check out inventory and get first-hand expertise from the team.