It's your home office so make it personal.
How would you describe your style? Are you trendy, contemporary, modern or traditional? How is your style reflected in your home? You can easily and creatively display your home style with decor, paint and furniture in your kitchen, living room and bedrooms, but many forget to make a home office reflective of your style as well. If you are working from home, now you have the ability to create a home office or functional space that reflects your style and comfortability.
Make it "you"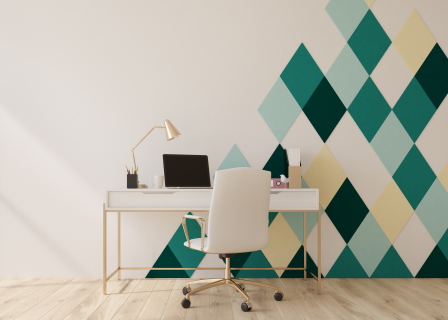 You most likely haven't had a say in how any of the corporate offices you've worked in look. And most of the time, in a corporate office, you are limited in your design capabilities within your individual workspace – you can add some family photos, maybe some art pieces, but many companies even permit you from adding your own plants or additional office furniture. With a home office or functional space, you truly have the chance to make it you! Add what you want, in the style you want, in order to be the most comfortable, and productive in your space. Take advantage of the opportunity to make your office what you want. Having an individual space to do your work is essential. If you can, get out of the kitchen or off the couch and transform a space to be your very own.
Tips for designing
It all doesn't have to be new
Designing your new home office doesn't necessarily mean you have to get new office furniture. Purchasing or even repurposing an older desk or chair in a new space is an easy and more affordable way to create a functional and productive space. You can even mix old and new – purchase yourself a new desk and chair and design with some home decor you already have, or reuse a desk you have but purchase a new chair. There are many different options!
Are you looking to purchase new or used office furniture? Santa Fe Office Interiors can help you find the best new and used office furniture in Kansas City. Read more below.
Make it a reflection of your style
With the opportunity to be "free" and design what you want you have the chance to create a space reflective of your own personality. Have you ever heard of an accent wall? Create something that is truly your personality – and it can become a background for any video calls you take!
Make sure you have a functional space
If you do not have a spare bedroom open or space for a dedicated office. Take advantage of a corner nook or even part of a bedroom or living room. You can easily purchase a functional desk and comfortable chair to create an "office" that reflects your style and let's you focus on your work.
Create a healthier office
You now have the chance to improve the "health" of where you work. Employees find themselves spending the majority of their time throughout the day sitting. May say that sitting is the new smoking! Take this opportunity to change your working habits with a sit-stand desk, allowing you to change positions throughout the day. Get in on this trend and help improve your wellbeing!
Organization is key
Use your space wisely, even if you aren't in an individual home office. Don't waste any space! When looking for home office furniture look for desks with built in storage and the best office chairs for you are ones that can tuck under a desk or take up little space when you aren't sitting in it.
What Santa Fe Office Interiors can offer you
Whether you are looking to furnish your home office or functional space with new furniture or used, Santa Fe Office Interiors can help you.
Santa Fe Office Interiors works with you to create a space that is reflective of your personal style, but functional enough to be your dedicated home office space. More importantly, Santa Fe understands that no home office is one size fits all.
Santa Fe prides themselves on their inventory selection. For example, Santa Fe offers over 50 selections of the best office chairs to suit your needs. Inventory is constantly changing and new pieces of quality used and sample furniture arrive daily.
Contact Santa Fe Office Interiors team at 913-901-8800 to speak to an expert about outfitting your home with quality home office furniture or visit the shop to check out inventory and get first-hand expertise from the team.