Minimize Distractions with Affordable Office Partitions from Santa Fe Office Interiors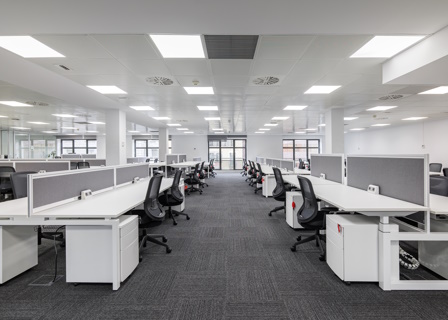 More and more offices are adopting an open-concept design to enhance flow and encourage collaboration throughout the workplace. However, this modern approach can make privacy a challenge.
Whether it's an employee's workstation or meeting area, privacy is a necessary component to any office. The good news is that you don't have to give up your open-concept design to achieve it. Office partitions allow you to section off different areas without constructing a solid wall. This creates essential private space but doesn't interfere with your seamless layout overall.
At Santa Fe Office Interiors, we carry a variety of new and used office partitions to help you strike the right balance between open and private areas. While every office is set up differently, office partitions come with a wealth of privacy benefits suited to almost any workspace.
Office Partitions Help Block Out Noise
With phone and video calls, face-to-face conversations, and clicking keyboards, it doesn't take much for an office to get noisy. While some employees may not be as bothered by a loud environment as others, the majority of individuals work better in quiet spaces. In fact, research shows that there's a 66% drop in productivity if you can hear someone talking while you're performing a task like reading or writing.
Office partitions act as soundproofing barriers of sorts, better controlling noise levels and helping employees stay on task.
Office Partitions Reduce Distractions
Beyond noise, there are all kinds of visual distractions that interrupt individuals' workflows. There's constant movement around an office that catches employees' eyes, like a colleague walking by or a group gathering for lunch. Situations like these can easily disturb team members and cause them to lose their focus.
Wide open spaces can also create more clutter and disorganization, which impedes on productivity. Office partitions are an easy and cost-effective way to minimize distractions, maintain an orderly workspace, and boost efficiency.
Office Partitions Provide Personal Space
It's undeniable that fostering a team-oriented company culture is vital to a successful business. But there's also something to be said for employees having their own space when it's time to get down to work.
Most individuals agree that they perform their responsibilities faster and more effectively without the intrusion of prying eyes. Personal work areas can boost office morale as well, because they suggest a business' trust and care for their employees.
Individual workstations aren't the only places that can reap the benefits of office partitions, though. They can also work well in designing private spaces for groups to hold meetings or take conference calls separate from the main area.
Other Benefits of Office Partitions
In addition to privacy, office partitions offer a whole host of other perks you may not have thought of. Some of these include:
Affordability: Compared to building new, permanent walls, office partitions are a more economical choice – no matter what style you choose. Office partitions can also help keep energy costs low, as there will be fewer spaces to heat and light.

Versatility: One of our favorite components of movable office partitions is the ability to rearrange them. Your design isn't set in stone, so if your needs change, you can easily shift your partitions around to develop a different layout. This is particularly advantageous for fast-growing businesses.

Natural Light: You can make the most of your space's natural light with glass office partitions. Glass still provides a certain level of privacy while letting you use natural light to your advantage and reducing your reliance on electricity. Natural light also does wonders for productivity and happiness, so harnessing it where you can throughout your design is a no-brainer!
Browse Affordable Office Partitions and More at Our Overland Park Showroom
When you're ready to start shopping for office partitions, you need look no further than Santa Fe Office Interiors! We offer a robust selection of movable office partitions and other commercial office furniture at our 9,000-square-foot showroom in Overland Park, so we can help you find the right additions that suit your needs and budget.
Additionally, we work closely with the top brands in office furniture, so if you don't find exactly what you're looking for at our showroom, we can help you get it! We have a number of catalogs on hand and can order directly through the manufacturer, ensuring you get the best solution for your space. We make every client a priority and are committed to setting you up for success.
For more information about our selection of affordable office partitions – or any of our other products – call (913) 901-8800 or send us a message. We'll be happy to answer any questions you may have!