We House an Extensive Selection of Commercial Office Furniture at Our Overland Park Showroom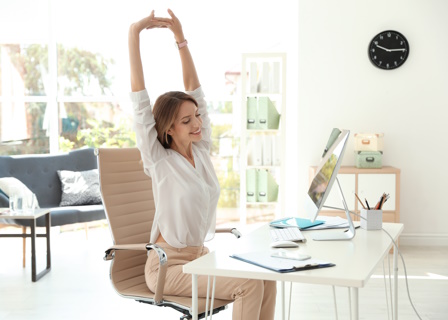 Whether you're outfitting a small office or an entire building, you need cohesive commercial office furniture to create a coordinated and stylish space. And beyond design, your materials must be durable to withstand regular, repeated use.
At Santa Fe Office Interiors, we carry high-quality used office furniture from the top manufacturers in the business. Our wide selection of furniture and interior solutions means you don't have to furnish your office piece by piece. We have everything you need at our 9,000-square-foot showroom.
Cherryman is just one brand of many we're proud to offer to our customers shopping for preowned office furniture in Kansas City. In business for years, Cherryman's extensive catalog of various finishes and features means you can achieve the exact look and functionality you're envisioning, even with pre-owned options in our store.
One of our favorite aspects of the Cherryman brand is their commitment to sustainability. They understand the environmental impact of office assets and utilize renewable and recycled materials whenever possible. They avoid short-term consumption and build their products to last – which is great news for shoppers looking for affordable, used furniture.
Cherryman sets the bar high and remains a standout choice for office furniture in Kansas City. Let's take a closer look at their pre-owned product lines and seating solutions you can find in our store in Overland Park, Kansas.
Cherryman's Commercial Office Furniture Product Lines
Cherryman has five lines of commercial office furniture products available to Kansas City businesses; contact us to find out which ones are in our showroom.
Ruby, Jade, Emerald, Verde, and Amber are perfect for office setups of all sizes – whether a single office or an entire building.
Ruby: The Ruby line includes desks, bridges, hutches, storage, bookcases, and more to achieve a stylish, all-in-one modular solution. The paprika cherry finish is not only tasteful, but stain resistant as well.
Jade: The Jade line, consisting of desks, bridges, kneespace credenzas, presentation boards, and conference tables, is finished in a premium-grade wood veneer and profiled with a solid timber edge to match. The backsplash is covered with tackboard fabric, and overhead storage comes in an open, wood, or glass finish.
Emerald: You can choose from two finishes in Cherryman's Emerald line of commercial office furniture – Port Figured Mahogany and Cognac Cherry. Flush features like inlay strips and file locks add to the sophisticated style of the line's bookcases, lateral file storage, matching returns or bridges, and much more.
Verde: If you're looking for Kansas City office furniture with contemporary flair, you'll find it in Cherryman's Verde line. The sturdy laminate three-ply construction, with finishes in Laminate Espresso and Laminate Latte, provides a fully modular option. Items like desks with aluminum satin-finished legs and storage towers create a sleek and refined look for a truly modern space.
Amber: The Amber line is constructed from one-inch thick panels of particle board and is available in Valley Grey, Hard Rock Maple, Sienna Mahogany, Park Walnut, Black Cherry, and Mocha Cherry laminate finishes. These finishes are then complemented with Nickel Aluminum or Black Aluminum draw handles for a polished appearance. Wall-mounted storage also comes with matching aluminum or frosted glass fronts, which creates a nice contrast with the line's wooden components.
All of the latest Cherryman product lines include grommets, so you no longer have to worry about a tangle of cords around the office. Instead, you can seamlessly integrate cables and power cords into your work environment for uninterrupted productivity.
Find Seating Solutions from Cherryman in Our Used Inventory
In addition to office furnishings, Cherryman offers a selection of seating options that you can find in wonderful pre-owned condition at Santa Fe Office Interiors. From task to guest chairs, the Atto, Zetto, and Eon lines cover the full spectrum to provide a comfortable seat for all situations.
Atto: Atto chairs are available in black frames with matching black mesh and arm pads or white frames with gray mesh and arm pads. A truly ergonomic seat, the chair's tilting mechanism locks in four positions, so you can customize your comfort.
Zetto: Zetto task chairs are equipped with an advanced synchro-tilt mechanism and seat slider adjustment. The two-inch thick polyurethane seat is made using a contoured design with durable black upholstery and matching black mesh.
Eon: Eon chairs come in the widest variety, with options for task chairs, guest side chairs, and conference-style seats. Both black and white frames are available in several upholsteries. Like the Zetto model, Eon's task chair includes a synchro-tilt adjustment with seat slider. The accompanying armrests can be removed for customization.
Remember, our pre-owned inventory is always changing; talk to one of our team members to learn more about what's in stock today.
Browse Pre-Owned Cherryman Office Furniture in Kansas City at Santa Fe Office Interiors
Santa Fe Office Interiors has an unbeatable selection of office furniture in Kansas City for every type of space. Regardless if you're furnishing a private office or one that brings in visitors, our team can help you create a safe, comfortable, and efficient work environment.
Our used office furniture is listed at affordable prices, so you can keep more money in your business. As a locally owned business ourselves, we look beyond our bottom line and prioritize helping other like-minded entrepreneurs thrive in our community.
But affordable doesn't mean inferior quality. On the contrary, with brands like Cherryman, we carry some of the best commercial office furniture solutions on the market.
There's really no better – or easier – way to shop for used office furniture near you! We encourage you to come by our showroom at 8106 Santa Fe Drive in Overland Park, KS, to check out our inventory and test items for yourself.