Choosing the Best Furniture for Home Offices for Comfort and Style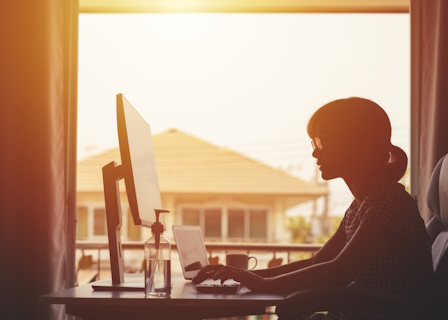 Working from home can be a blessing in many ways. However, the problem with it is that you might not have access to ergonomic home office furniture. If your budget looks thin and you're wistfully looking through ads for furniture for home offices, those prices might make you believe that a comfortable WFH setup is out of your reach.
Fortunately, that isn't the case! Santa Fe Office Interiors can help you create a home office space that's tailored to your needs. We have high-quality, gently used office furniture ready for you to take home today.
Here's how our home office furniture can maximize your productivity and give you a comfortable place to work from home.
1. Create Comfort to Avoid Health Issues
Choose good-quality furniture for home offices to avoid feeling achy and tired at the end of the day. Santa Fe Office Interiors offers ergonomic chairs with soft seats, seat tilt options, adjustable armrests, and a variety of ergonomically-friendly features.
Standing desks or adjustable height desks will help keep you active and avoid aches and pains you get from bad posture and lack of movement. A comfortable mesh-backed chair with a wide seat and headrest is essential for a pleasant home office setup. Santa Fe Office Interiors offers brands like RFM Seating, Laurel, Chairman, and more to choose from when selecting used office furniture.
2. Create Boundaries with Furniture for Home Offices
Enhance productivity with partitions that can separate your office space from the rest of the house, giving you a dedicated workspace that gives you privacy. This ensures that your work area remains distinct from your personal life.
If you need a quiet space, we offer tall partitions with noise-reduction capabilities that can create an office area where you can work in peace while the household rolls along. Some have frosted glass that gives you privacy while brightening up your area with natural light, which can reduce stress.
We are happy to help you create a look that fits your overall home decor while being functional and choosing furniture for home offices that feels comfortable and businesslike at the same time.
3. Choose the Right Desk
A good desk is more than just a place to pile all your work equipment. It's your headquarters where you get things done. After all, you're spending over 40 hours a week here, so you want a desk that can hold your monitors and electronics, while looking great and giving you enough legroom underneath.
To choose the best desk type for your home office setup, you'll need to measure the space where it will go in your home. For example, for a smaller space, such as an apartment, you'll likely need to go with a smaller desk. Don't worry; petite office furniture exists, and Santa Fe Office Interiors has new and pre-owned desks that will fit your space.
For a larger home office, choose modular workstations, L-shaped desks, and more. Talk to our team about options related to designing your own office setup that best suits your unique needs.
We're ready to help you make your home office work with the best used office furniture near you.
4. Buy Local So You Can "Test Drive" Your Home Office Furniture
Try out the desks and chairs you like in our showroom. A good way to save money is by sitting in the chairs and at the desks you're interested in. Nothing is worse than dropping a lot of money on a chair that looks great, only to find out that it's uncomfortable and hurts your back.
By choosing Santa Fe Office Interiors, you can find excellent, lightly used office furniture near you that fits your budget, looks great in your home, and improves your overall workday experience. Say goodbye to discomfort and distractions and create a productive and comfortable home office space.
Save Big on Used Office Furniture Near You
If you do a search on your phone for "used office furniture near me" it will lead you to Santa Fe Office Interiors and our home office furniture, which we offer at discount prices every day.
Come visit our showroom in Overland Park at 8106 Santa Fe Drive, Overland Park, KS 66204. We are open Monday through Friday from 10 a.m. to 4 p.m., or by appointment to help fit your busy schedule.