Revitalize Your Work Environment with Office Furniture in Kansas City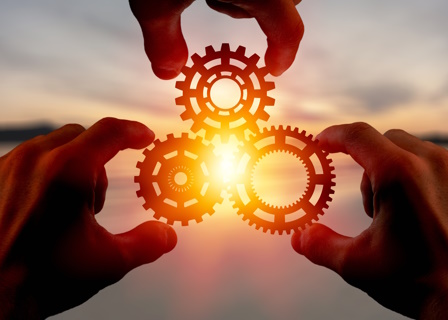 Now more than ever, collaboration is important – especially in the workplace. Communication, teamwork, and building off each other's ideas are all vital parts of collaboration and can result in a huge increase of efficiency and performance for your business. You'll want to make sure your employees have all the resources they need to work together in a way that benefits everyone.
Believe it or not, your office furniture has an impact on how your employees interact and exchange ideas. To promote teamwork and collaboration, you'll want to arrange your office space in a way that's open, inviting, and welcoming.
Aren't sure how to get started? Here are just a few ways you can encourage collaboration within your corporate office space, courtesy of our Kansas City office furniture store, Santa Fe Office Interiors.
#1 – Let Your Walls Down
Although office partitions are great for privacy, these structures divide up space and immediately discourage brainstorming and communication. To maximize collaboration among your team, remove any office partitions that are being used to separate desks. Not only will this create more open space, but your employees will be able to effectively interact and build relationships, which can then boost productivity and creativity within the workplace.
Repurpose your office partitions by using them to create an area where employees can privately attend online meetings, make important phone calls, or just get work done in peace and quiet.
#2 – Enhance Your Conference Rooms
Your conference rooms are where all the magic happens, so you'll want to ensure your employees have what they need to share their ideas and bring them to life.
Use a spacious meeting room table that can make all the difference.
Ergonomic office seating and desks can be adjusted to the personal preferences of your employees. Offering multiple points of adjustment, an ergonomic office chair can be tailored to each individual's exact measurements, providing greater comfort and more support throughout the work day. Additionally, ergonomic desks can be used for sitting or standing, averting the harmful effects that come with prolonged sitting.
High-quality office furniture is guaranteed to boost efficiency and productivity, and will ultimately promote more collaboration in the workplace.
Shop Kansas City Office Furniture at Santa Fe Office Interiors!
Looking for high-quality office furniture that will enhance collaboration within your business? Visit us at Santa Fe Office Interiors! Our Kansas City office furniture store offers both new and used seating solutions, desks, office storage, and more.
When you visit our 9,000-square-foot showroom, you'll be able to shop our ever-changing inventory that contains some of the industry's top brands. Plus, with our hassle-free delivery options, receiving your office furniture has never been easier.
Get started by giving us a call at (913) 901-8800 or sending us a message using the contact form on our website. We can't wait to hear from you!