Shop Office Chairs for Sale at Our Used Furniture Store in Kansas City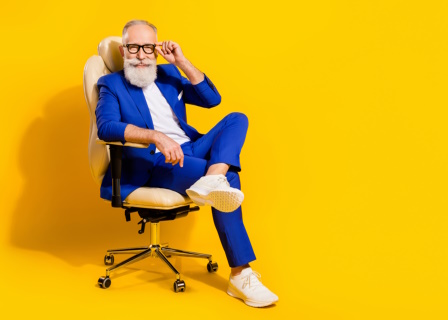 Your office chair is undoubtedly one of the most important aspects of your workspace. Many people consider office chairs to be just one of those things you don't need to repurchase until it's quite literally falling apart. However, there are some other telltale signs that it may be time to replace your office chair, and that's where we come in.
At Santa Fe Office Interiors, you'll find new and used office chairs for sale at an unbelievable price. Our furniture store offers used desk chairs in a variety of styles. From traditional to contemporary, you're sure to find a chair that fits seamlessly with the ambiance of your office.
You don't necessarily need a reason to replace and upgrade your office chair, but some people need that extra little push. If you're unsure whether it's time to say goodbye to your current chair, consider these five signs.
#1 – Damage or Faulty Parts
The most obvious sign that it's time to replace your current office chair is damage. Although minor damage may seem like no big deal, it could progressively worsen over time and potentially cause future injury. Look out for loose wheels and knobs or levers that no longer function, including the height adjustment, armrests, or backrest. If these components get stuck, this is another indication your desk chair has run its course.
#2 – Wear and Tear
Wear and tear is a clear sign that your office chair isn't working to its highest potential and that it's time to replace it. As the foam in your seat cushion compresses over time, it offers less support when you sit down. This puts additional stress on your lower back and other areas of the body, resulting in aches and pains.
To determine if your office chair is worn out, take a look at the material. For leather chairs, look for any cracking or roughness. If it's a cloth chair, a tear in the material is a dead giveaway.
#3- Non-Adjustable
Say you bought your office chair because of its unique and attractive design, rather than its comfort or functionality. There's a good chance your chair has no points of adjustment. While your chair might look visually appealing in your space, it could be taking a toll on your body.
Your office chair should be adjustable to your exact measurements to provide you with maximum comfort throughout the workday. To ensure your office furniture meets your personal needs, replace your current chair with one that is ergonomic and offers multiple points of adjustment.
#4 – It Causes Pain
If you're starting to notice back and neck pain, your chair could be to blame. Chronic pain is a clear indicator you need a new office chair. To prevent the pain from worsening or causing even more issues, you should replace your chair as soon as possible.
Opt for an office chair that is specifically made to promote good posture. Ergonomic chairs offer multiple points of adjustment, meaning you can fit your chair to your personal measurements and position your body in a way that prevents pain. What's more, you won't have to constantly remind yourself to maintain proper posture. An ergonomic chair does all the work for you, thanks to its lumbar support and intentional design.
#5 – It's Outdated
Just like many other industries, office furniture has also advanced over time. Today, office chairs can be adjusted in more ways than you can imagine to provide the utmost comfort and support where you need it. And if you're still using the office chair you've had for years, you could be missing out on all the benefits of modern office chairs.
Older office chairs may have served their purpose in the past, but advancements have now made them obsolete. As you browse office chairs for sale, look for chairs that are equipped with the latest features to ensure you're getting the most out of your furniture.
Shop New and Used Office Chairs at Santa Fe Office Interiors!
If any of these signs sound familiar, and you've realized it's time for a new, more functional office chair, visit us at Santa Fe Office Interiors. We offer new and used desk chairs that are perfect for any home office or commercial space. Shop customizable, ergonomic seating solutions from the top brands in the industry.
Looking to completely redesign your workspace? We've got everything you need – under one roof – at our home office furniture store. Browse desks, partitions, tables, storage, and filing options.
To get started, stop by our 9,000-square-foot showroom in Overland Park, KS, or give us a call at (913) 901-8800.