The Secret is Shopping for Used Office Furniture Near You!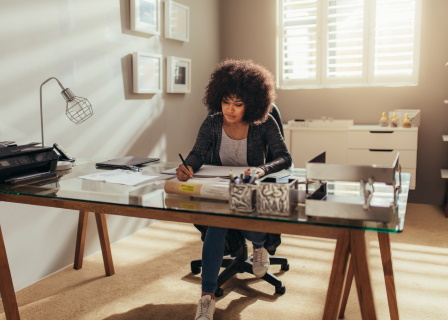 Did COVID-19 force you to work from home for the foreseeable future? Are you still making do with your kitchen table or old corner computer desk from college, but hating every minute?
Do what you should have done months ago: head to Santa Fe Office Interiors in Overland Park, KS, to buy new-to-you office furniture designed for real workspaces for real professionals. It's time for an upgrade, and we can help you do it.
What NOT To Do When Upgrading with Used Office Furniture in Kansas City
When shopping for office furniture, your first gut instinct is to head to a name-brand furniture store just outside of town, where you'll spend hours dealing with crowds and searching for what you need amongst room upon room of things you don't. At the end of the day, you'll have spent lots of money and your precious time.
In an effort to save money, your next instinct may be to check out your area thrift stores, yard sales, or online marketplaces for used office furniture looking for a new home. Thrift stores and yard sales, while fun if you aren't looking for anything specific, are hit or miss, especially when it comes to quality furniture pieces that support your body and look professional.
Similarly, with online marketplaces, if your schedule doesn't align with the seller's, or there's a long line of other people interested in a single desk, you end up wasting a lot of time and energy on something that will never come to fruition – at least not quickly, anyway. The likelihood of you putting together a cohesive set of office furniture is also slim to none.
Taking either of these routes in search of office furniture near you is a mistake that could cost you big. Instead of shopping around and walking through throngs of people on the same mission as you, visit Santa Fe Office Interiors, the premier purveyor of used office furniture in Kansas City for more than a decade. In our 9,000-square-foot showroom dedicated to workspaces, you can find beautiful, pre-owned, matching furniture to make your home office look professional and put together. We have everything you need, and we make it easy to find it.
What To Look For In a Used Desk for Sale
If you're in the market for a used desk, you should first consider how much workspace you need, as well as how much floor space you have in your home office. Reconcile the two to find the perfect size desk.
Next up is style! Do you prefer classic, rich mahogany office furniture, or are you looking for something more modern? Do you need lots of drawers, or is a desktop on legs more than adequate for your purposes? A used office furniture superstore like Santa Fe Office Interiors has all of these.
In most scenarios, if you were purchasing a used desk, you'd want to test out all the drawers and inspect absolutely every inch for damage. Good news: we've taken care of all of that for you, including cleaning!
What to Look for in a Used Office Chair
The main components of a good office chair are the cushion, the back support, and the ability to make adjustments. Not every office chair has a great cushion; the best ones are designed to support you for eight hours a day without pressure points or a need to fidget to get comfortable. The same goes for back supports. A cheap chair from a big box store that requires you to "read" comic book-like instructions to assemble it probably doesn't have great lumbar or neck support.
And when it comes to being adjustable, the standard desk chair from one of those stores only raises or lowers in seat height. To get the support you need, you'll want to buy a real office chair, made for business settings, and you'll need to adjust it to fit your body and preferences.
When you shop our showroom of gently-used office chairs, sit down in a few you like the look of to compare their comfort level. If you're short or tall, you'll want to verify that the chair can be adjusted appropriately to suit you before making a purchase. A well-adjusted chair can save you a trip to the chiropractor, doctor, or physical therapist.
What to Look for in a Used Credenza or Bookcase
A credenza, a low table that is generally positioned behind your desk, has fallen out of favor in recent years, replaced with cutesy, colorful organizing systems from craft stores or DIY projects. If those systems work for you, and you like how they work, more power to you. But if you're looking for a sturdy piece of office furniture with storage and extra workspace – and a place to perch your printer – a used credenza will fit the bill.
Look for a credenza that matches or complements your used desk – yet another step toward creating a cohesive and professional office space. Of course, we still recommend decorating your credenza a bit to show off your personality – a nice lamp, vase of flowers, or a small sculpture will look great. The main purpose of credenzas is for office storage, but they also let you file confidential documents out of eyesight, and some come with a lock and key for extra security.
An alternative to a credenza is a bookcase that will hold all your reference books, plus photos or other small decor items to reflect your personality. This is another piece you can get to match or complement the rest of your office furniture. On your next video conference, your team will see the credenza or shelving unit behind you and be wowed at what a great home office you've set up for yourself.
Used Office Furniture Shopping List
To make your shopping experience easier, we've assembled a list of used furniture and other office items you need to pick up to complete your new workspace. Print it out and take it along with you.
To Buy from Santa Fe Office Interiors
 Desk (check that it will fit through your doorways and into your home office)
 Desk chair (prefer one that is ergonomic and fully-adjustable)
 Chair pad (to protect your carpet or hardwoods from your new office chair)
 Credenza
 Bookcase
To Buy Elsewhere
 Desk lamp
 Basic office supplies (legal pads, pens, stapler, etc.)
 Printer with extra ink cartridges
 Printer paper (buy in bulk to save money)
 Headset for teleconferences
Shop Your Home
 Decor items to create a cozy, personalized look
 Framed family photos
 Coaster for coffee or water (don't leave a ring on your new-to-you desk!)
The Best Used Office Furniture Store Near You
Santa Fe Office Interiors has been outfitting local Kansas City businesses and individuals with high-quality used office furniture for more than a decade.
Join the ranks of our happy customers by stopping by our showroom at 8106 Santa Fe Drive in Overland Park, or call us at 913-901-8800 to let us know what you're looking for. Now, get back to work!