Choose an Office Seating Solution That Helps You Work Smarter, Not Harder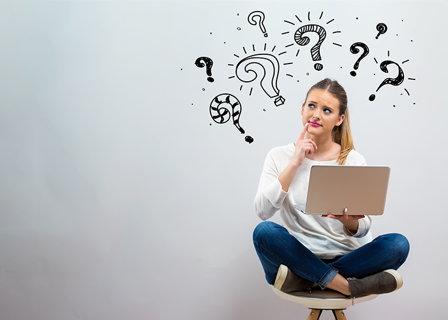 There's more to a good office chair than ergonomics. Of course, you want a seat that's comfortable and easy to work in, but you should also have something that fits in well with the rest of your lifestyle.
If you work from home and have pets, for instance, you don't want an office chair that's going to be a magnet for hair and tough to clean. Or maybe multiple people will be using the chair at different times, so durability is key.
When you're looking at desk chairs for sale, ask yourself, "Does this option meet all my needs?" What may be a great office chair for someone else may not be ideal for you, so it's important to have a strong understanding of what you want and try out different styles before you make a purchase.
Determining the Best Office Chair Upholstery for Your Lifestyle
Upholstery can make or break an office chair. Something can be nice to sit in, but the upholstery makes it impractical for your lifestyle.
With several types of office chair upholstery on the market today, it can be difficult to know what's right for you. To help you in your search, we're examining the most common upholsteries and when they should be used.
Mesh Office Chairs
Mesh office chairs are excellent candidates for both sleekness and support. Their ergonomic design is aesthetically pleasing while promoting good posture and sitting habits.
But perhaps one of the biggest benefits of the material is its breathability. The open structure of a mesh office chair's backrest facilitates air circulation, helping reduce body heat and perspiration – especially in the summer months.
In contrast, the seat of mesh office chairs is tightly woven, which results in less maintenance. And thanks to their lightweight frame, mesh chairs can be moved and resituated without issue.
Mesh office chairs typically aren't as comfortable as their fabric counterparts and some may be bothersome to individuals with sensitive skin. If your skin is more prone to irritation, a different office seating solution may suit you better.
Knitted and Woven Fabric Office Chairs
Office seating made using knitted and woven fabrics comes in a wide range of colors. This means you'll have more to choose from to match your interior style.
Knitted fabrics are usually the softest of the two, but both styles provide a plush, comfortable seat that can go up against even the longest work days. Combine that with a memory foam cushion, and you'll have an office chair that conforms to your unique body shape for an enhanced working experience.
Knit and woven fabric chairs are generally more cost-effective than other options, so you can take office comfort up a notch without the hefty price tag.
The downside of these office chairs is that they show their wear and tear. Knit and woven fabrics can be harder to maintain and more likely to stain.
Vinyl Office Chairs
Vinyl office chairs are well-liked because of how easy they are to clean. Quickly wipe up spills and other mishaps without a stain left behind. (These are for you, desk foodies!)
They also provide an upscale appearance akin to leather at a fraction of the cost. Some high-end vinyl is actually so well made that it can be tough to tell the difference between the two materials.
Temperature control is vinyl's Achilles heel, and these office chairs lack breathability. If you work in a warmer environment or just prefer to have more airflow, consider a mesh or other fabric design instead.
Leather Office Chairs
Leather office seating is a classic symbol of luxury and sophistication. Long used by businessmen and women throughout the working world as a mark of prestige, these designs are the ultimate triple threat, combining quality, comfort, and style.
Leather's durable nature lends itself well in office environments, and chairs can last for years if properly taken care of. If you purchase a leather office chair, it's a good idea to invest in care products as well to prevent the material from drying out and cracking.
Leather office chairs are often the most expensive option. However, if you're willing to pay a little more, you'll see the pay off.
Shop New and Used Office Chairs at Santa Fe Office Interiors
Your office chair is at the center of your workday, making it essential you have one that meets your needs. Whether you're looking for a chair that's breathable, durable, easy to care for, or a combination of all three, we can help you find the perfect addition to your office.
At Santa Fe Office Interiors, we offer a wide variety of office seating solutions in traditional, modern, and contemporary styles. We pride ourselves on making it easy for you to create a space that's equally productive and comfortable.
And you won't find our prices anywhere else! Shop new and used office chairs from esteemed brands like RFM Seating and Lorell when you visit our showroom at 8106 Santa Fe Drive in Overland Park, KS.
You can also get in touch with us by calling (913) 901-8800 or sending us a message on our website.