Shopping New and Used Office Chairs at Our Overland Park Showroom Lets You Zero In on Your Perfect Seat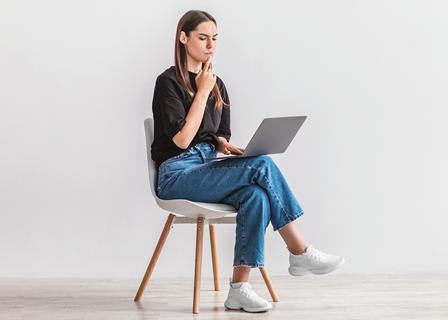 Office seating isn't one-size-fits-all. What one person likes isn't necessarily what's best for someone else. And as the command center of your desk, your office chair needs to work with – not against – you.
The right chair should be comfortable, efficient, and provide the necessary support to minimize poor posture and fatigue. However, these qualities can't be determined just by looking at a product's features and specs.
Ordering office seating online is more of a risk, and you may be surprised by what you receive in the mail. Maybe the color appears different. Or maybe it's not as comfortable to sit in as some reviewers claimed. Whatever the case, we can all agree that online returns are a hassle, and it's better to invest in something you know you like.
Whether a new or used office chair, it's essential to try before you buy. Here are four reasons why you should give your next desk chair purchase a test run.
To See If It's Comfortable
The average full-time employee spends 40 hours per week at work. And if you have a desk job, there's a good chance you're spending most of that time sitting down. You deserve an office chair that's comfortable – even on the longest work days.
However, we all experience comfort differently. Some may like a cushioned seat while others prefer a head rest. After all, that's why office chairs come in so many shapes, sizes, and materials in the first place. There's a chair out there for every person's unique style.
By trying out new or used desk chairs beforehand, you'll be able to determine what you do and don't like. From there, you can narrow in on your comfort needs and pick a design that fulfills them.
To Check Out the Ergonomics
Ergonomics and comfort go hand-in-hand. Without a chair that can adjust to your height, weight, and body shape, you'll never be able to sit properly or work efficiently.
Look for these features when you're shopping office chairs near you:
Adjustable Seat Height: The seat should be adjusted so your feet are flat on the floor when your back is straight on the backrest. Set the seat too low, and you'll put more strain on your lower back and hips. Set the seat too high, and you're more likely to hunch over, causing discomfort in your upper back and shoulders.
Adjustable Seat Depth: Your seat depth should allow enough room for a few fingers to fit between your knee and the front edge of the chair. The right seat depth ensures good blood flow through the legs and feet as well as proper back support.
Adjustable Seat Angle: Your seat should be tilted forward ever so slightly so your knees sit just below your hips. A forward-sloping seat improves blood circulation and takes some of the pressure off your lower back.
Adjustable Backrest Tilt, Tension, and Lumbar Support: Adjustable backrest features help fully adapt to the natural curvature of your spine. Make sure to sit far back in your chair, so the backrest can support your entire back.
Adjustable Armrests: When sitting in a new or used office chair, you should adjust the armrests so your arms are parallel to the floor and your elbows are bent at 90 degrees. Additionally, you can sometimes customize the distance between your arms as well as the position of the arm pads to better support your forearms.
Trialing the ergonomics in advance helps you learn how the features work, so you can make the most of your desk chair back in your office space.
To Test the Tilt Mechanism
An office chair's tilt mechanism controls the relationship of the seat and backrest. These additional customizations can enhance your comfort and promote a healthy posture, so you avoid muscle strains.
Here are some of the most common tilt mechanisms for office seating:
Single-Point Tilt: The mechanism found in most standard office chairs, a single-point tilt reclines the backrest and seat at the same 1:1 ratio. This is great for slighter tilts, but you may want something more advanced if you prefer more range.
Synchronous Tilt: A synchronous tilt reclines the backrest and seat at different ratios – most often 2:1. This allows your feet to remain on the floor and helps curb pressure on your thighs while you stretch your chest.
Knee Tilt: The pivot point on a knee tilt mechanism is closer to the front of the seat, so the chair reclines at a wider angle. This means your feet stay on the ground no matter how far back you go.
Forward Tilt: A forward tilt mechanism is ideal for people who tend to sit on the edge of their seat or lean forward while working. When pressure is applied, the seat slopes down around five degrees and has been proven to increase blood flow and reduce back pain. Typically, the forward tilt is also part of a larger multi-tilt mechanism with several adjustments.
Forward Glide: With a forward glide, the seat moves forward and tilts down as the backrest reclines. For those that suffer from back pain, this is advantageous because you're able to keep your gaze and arms within your work zone even if you lean back far.
Multifunction or Asynchronous Tilt: A multifunction – sometimes referred to as an asynchronous – tilt lets you adjust the tilt of the backrest and seat independently. This gives you complete customization power to find the exact angle that's best for you.
Testing different tilt mechanisms when you're shopping for new or used office chairs boosts your chances of finding something that's capable of following your natural body movements.
To Feel the Material for Yourself
A picture may speak a thousand words, but nothing compares to feeling a product for yourself. And this is especially true with office chairs.
You don't want to spend eight hours per day in a chair that doesn't feel good on your skin. Plus, you should have a material that's durable and easy to maintain. If a fabric feels itchy or you're considering how it may attract your pet's hair, a leather or vinyl desk chair may suit you better. You can assess all these points as you sit in different options.
If you're looking at used office chairs, this is also a good time to examine the material's wear and tear. The condition of a chair can sometimes be tough to read in online photos, but seeing it in person gives you a clear picture of the potential purchase.
Visit Our Overland Park Showroom to Try Our Large Selection of New and Used Office Chairs
At Santa Fe Office Interiors, we're proud to serve the greater Kansas City area with a wide variety of office seating solutions. With new and used office chair options in traditional, modern, and contemporary styles, we have something for everyone at our 9,000-square foot showroom.
Our team can't wait to help you test out and find the perfect desk chair for your needs. Come see us from 10 a.m. to 4 p.m. Monday through Friday at 8106 Santa Fe Drive in Overland Park, KS. Or call (913) 901-8800 to schedule an appointment.