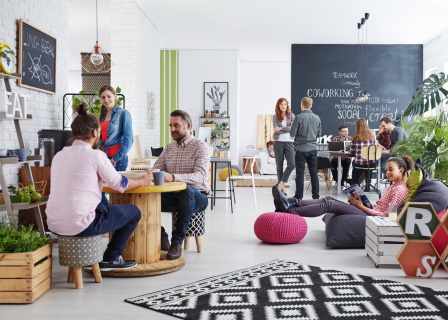 Are you looking for a place in the greater Kansas City area to buy your next new or used piece of office furniture? Not sure whether to buy new or used? You're in luck because our team of professionals at Santa Fe Office Interiors is ready to take on any question or concern you have. Based in Overland Park, Kansas, we have provided office furniture throughout Kansas City and beyond. Our 9,000 sq. ft. showroom allows you to browse the latest in new desks and new ergonomic chairs, while also showcasing a huge selection of pre-owned desks, chairs and office storage solutions. Did you know that buying local means your dollar goes farther in the local economy? Since 2005, Santa Fe Office Interiors has brought the region an option in affordable and quality office furniture. From pre-owned office furniture to working with the top brands in the industry, in 2020 we continue to bring top-quality office furniture to both commercial and residential spaces.
In the fast-growing metropolitan region around Kansas City, knowing who to trust for quality and affordable products is important. Every office is different therefore every business requires varying levels of attention and need. Our team loves to work with local offices to customize a look and feel that will work for them today and for years to come. And as office furniture experts, we know that the style of a space and the design of furniture has a direct effect on you and your employee's productivity and health. As the owner of a business, furniture and an interior workspace is important. Not only is productivity and health a major consideration, but so is morale, all of which will play a direct role in profit and workplace retention. From Express and Lorell to Cherryman, RFM Seating and Mayline, we work with the top manufacturers who also acknowledge the importance of sustainability and ergonomic design.
Benefits of Buying New Office Furniture
Whether you are considering a complete redesign and overhaul of your office's interior space or you are on the lookout to replace a few outdated items with new furniture, working with the right team will help you find the right piece of new furniture. At Santa Fe Office Interiors, we are big fans of buying pre-owned office furniture but also know that buying new furniture to outfit a space has its own benefits. For instance, some pre-owned furniture is outdated and does not take advantage of the newest innovations in design and function. Over the past decade alone, the furniture industry has grown monumentally and expanded into realms of ergonomics. From lumbar support in office chairs to stand-sit desks, new office furniture is continually growing, evolving and expanding into new areas to help promote and maintain productivity in the workplace. An additional benefit to buying new furniture from one of the leading brands we work with is a clean aesthetic which promotes a healthy, updated and professional office environment. Much of that new furniture can come with an attached warranty to protect against any damage or defect that may arise in the allotted time period.
Benefits for buying Pre-Owned Office Furniture
Outfitting your office space with high-quality furniture does not have to cost you an arm and a leg. In fact, supplying your office with furniture should be a simple and affordable task whether you are buying a chair, a desk, or setting up an entire office space with furniture. One of the best ways to cut costs while still retaining high-quality furniture is to shop our vast selection of pre-owned furniture. Buying a used desk, a used chair, or used storage solutions means letting someone else take the depreciation hit. One trick of buying pre-owned is to shop around for the previous year's model. Some companies update their furniture on an annual basis, benefiting those who purchase pre-owned because you are getting a top-of-the line, modern piece at a discounted rate. Another benefit to buying pre-owned is the knowledge and action of being environmentally friendly. Often, perfectly fine office furniture is tossed out in exchange for the 'latest and greatest.' Buying pre-owned desks and chairs means you have a world to choose from and you are doing a part in saving the planet from waste.
From pre-owned to brand new furniture, each serves a purpose in an office environment. Depending on your business and space can depend on the direction in furniture you'd like to go. In the greater Kansas City area, Santa Fe Office Interiors prides itself on being a supplier that people trust, knowing where to find quality and affordable office furnishings. Our staff will help you find great deals on recent models of furniture while showing that buying pre-owned furniture can mean investing in higher quality furniture at a lower price point. Pre-owned furniture is affordable, accessible and economical. New furniture offers advantages in innovation, design and technology. When you are ready to outfit your office or upgrade your furniture, swing by Santa Fe Office Interiors at 8106 Santa Fe Drive, Overland Park, KS 66204. Our Overland Park, Kansas location serves the greater Kansas City area Monday through Friday from 10:00am to 4:00pm and are also available by appointment to help fit your busy schedule. Give the team at Santa Fe Office Interiors a call today to set up an appointment at 913-901-8800.