How to Get It Right and Keep Your Employees Happy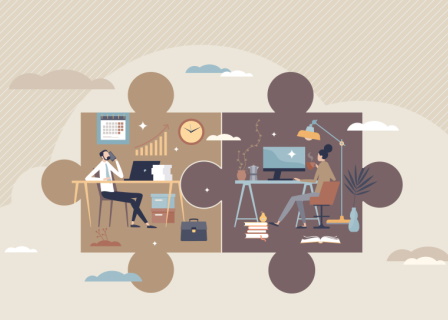 Before a few years ago, you would find employees working in the office from 9 to 5. Flash forward to today, and almost every company is on a hybrid work schedule. With different schedules comes a new set of necessities for the office. So,how do you set-up enough office furniture to suit everyone's needs?
Santa Fe Office Interiors breaks down the three most popular hybrid schedules, and how our new and used office furniture in Kansas City is the key to outfitting your office space on a tight budget.
Group Hybrid Schedule
This hybrid schedule divides your company into equal groups with members of each department. Each group comes into the office on rotation, while others work from home. Some companies choose to change groups quarterly, and others choose to complete group cycles in about a month.
How to Choose Office Furniture for a Group Hybrid Schedule
Group hybrid schedules are perfect for what the pros call "hot-desking." Instead of permanent Glass partitions on office desks are an ideal way to protect your health and collaborate effectively.
Important Notes
Glass partitions are ideal for collaboration, but they don't offer a lot of privacy. If you have an office where people need to focus on individual work, choose cubicles or opaque partitions to keep your employees on task. Just make sure they're getting enough natural light at their desks.
Remote First, In-Office Last
Remote first means that all employees work from home, and may come into the office when they choose. This gives your employees effortless flexibility, but requires them to have a productive work space. Make sure to discuss what it takes to choose the correct office furniture for working at home.
What to Suggest to Your Work-From-Home Employees
Back and general muscular pain are one of the biggest reasons people aren't productive while sitting at their desks. Purchasing ergonomic office chairs and standing desks are an ideal way to combat pain and keep you comfortable. However, your employees should also have an effective way to stay organized with storage solutions, too. Appropriate storage keeps their workspace tidy and company property protected.
Important Notes
Some employees may think they can't afford quality office furniture. However, the used office furniture at Santa Fe Office Interiors offers hundreds of options for their work-from-home space at a great price. We carry big and tall office chairs, standing desks, and gorgeous storage solutions.
Other Office Furniture to Consider
No matter which schedule your company chooses, you'll still need office furniture for guests, clients, and meetings. Here are few items to think about when you're looking for new or used office furniture:
Breakroom furniture
Conference tables and chairs
Decor
Guest chairs or sofa
Storage for office supplies
Do You Really Need Conference Tables?
Yes! Conference tables are essential for employees to brainstorm together, and an area where clients can relax during a meeting. Without conference tables, you won't have a place to set your electronics or write critical details.
Important Note
Don't waste your time waiting on office furniture to be shipped when used furniture in Kansas City is readily available on our showroom floor. Santa Fe Office Interiors has what your office needs to look completely put together. We even offer a free conference table when you purchase ten or more office chairs!
Are You Ready For a Good Deal on the Best Office Furniture in Kansas City?
Then head to Santa Fe Office Interiors, your local supplier of incredible new and used office furniture! Our 9,000 square foot showroom is conveniently located in downtown Overland Park, right off Metcalf. With over 30 years of experience in the office furniture industry, you can be sure that Santa Fe Office Interiors can outfit your office for success!
Stop by our store, contact us online, or call us at (913) 901-8800 to find out more about our inventory. Don't forget to ask us about wood desks and executive seating for your personal office.