Create a Space You'll Love With the Best Desks and Office Furniture in Kansas City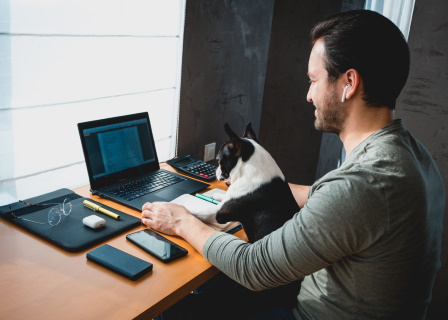 As we introduce some of our favorite desks for a home office, it's the perfect time to think about what to keep in mind as you find the best fit for your work lifestyle. Understanding what works for you through your 40-hour workweek is important to consider when searching for office furniture. After all, your desk should provide functionality and comfort all day long rather than distraction or frustration. At the same time, you want something attractive in your personal space since your desk becomes the focal point of any room.
Some things to consider when picking out a desk and bringing your home office ideas to life:
Space– How much available space do you have? You will want to make sure the desk you choose falls within your available parameters to find the best fit for your home office interiors. Will you need extra surface area for documents, books and files? Or, do you need something compact with storage?
Style– Are you looking for something traditional or contemporary? And what kind of finish do you prefer – wood, laminate, steel or wood veneer? With so many options, you're sure to find the perfect solution for your space
At Santa Fe Office Interiors we work with a number of high-quality manufacturers. We bring you the highest quality solutions for your bedroom, living room, or wherever you have chosen to set up your home office space. Let's take a look at the best desks in the business and find the perfect gem of a desk for your dedicated space.
Adjustable Standing Desk
A standing desk is an ergonomic and health-friendly desk that can be a great addition to your home office. Ergonomically designed desks promote health by providing various height options that adjust to your comfort and lock in place. Research has shown that standing vs sitting promotes weight loss, lowers blood sugar, and reduces back pain which in turn can boost your productivity throughout the day. Not only are there many health benefits but with different options available you can find something more compact to put in smaller spaces. You can also find options with a larger surface area if you have multiple screens or want to spruce up your desk with a plant or need space for files.
Conset, one of the desk brands we carry has a wide range of ergonomically friendly active desk solutions that fit the bill for providing functionality and contemporary style. Choosing this adjustable height desk is both an affordable and health-conscious decision.
Let's Talk L-Shape
The L-Shape desk offers so many great home office options. Not only does the L-Shape give you a nice amount of space to work on, but it can also take up less space in your home since its unique design can fit into any corner. Because L-Shapes tend to be longer in size it offers more storage space as well. If you work with multiple screens no space is left unreachable or unused on this surface.
We have so many great L-Shape desk options available with different surface finishes to make your dream desk come to life. It is offered in traditional, modern, and contemporary styles to fit the look you want. No matter what finish you choose, your L-Shape desk will look great while maximizing your workspace and storage needs.
Contemporary Design Desks
Whether you have a small workplace or ample room to work with, there are many contemporary designs that make for an eye-catching and functional home workspace. The sleek lines, simplicity, and versatility of a contemporary style inspires creativity and makes for a beautiful space to drink a cup of coffee and start your workday.
The Harmony collection does not disappoint in this department. There is a wide range of gorgeous contemporary and modern pieces that can be built to fit any space with style. The newly introduced wood VA-Leg laminate series adds the flair you're looking for to create a custom desk space at an affordable price.
Multi-Purpose Office Suite
Perhaps you have been working from home for a while or maybe you are new to the remote working lifestyle and are ready for a more comfortable workspace. The opportunities to create a space you love are endless. A multi-purpose home office may be just the thing to upgrade your room. Adding a sleek and elegant multi-functional desk to your home can serve other purposes. Adding a bookcase or a hutch can give you a way to showcase literature or pieces of art that can become a centerpiece for inspiration while you work. It also is a great way to add storage so you can clear the clutter away at the end of your day.
Express offers a wide range of desk and storage options to create a complete office suite. They are available in traditional and modern designs that can be customized to the solutions and aesthetic you desire. Another brand we carry, Cherryman, offers the Ruby line which includes hutches, bridges, bookcases and more to enhance your customized workspace.
These great options are just a few of our favorites that can help you create your in-home office for any size or budget. At Santa Fe Home Interiors, we are dedicated to bringing you the best selection of office furniture in Kansas City. Call us today for more information or visit our showroom in Overland Park to view our large selection of high-quality office furniture options.