Discover Quality Pre-Owned Desks, Seating, Storage, and More at Our Kansas City Office Furniture Store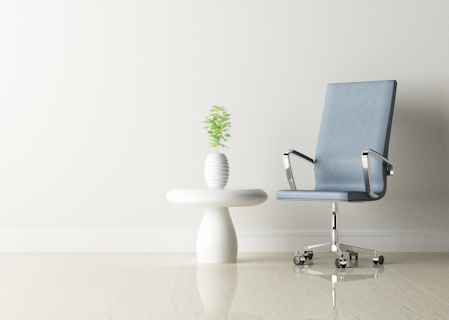 Furnishing a new office or redesigning an old one is no small undertaking. You put a considerable amount of time, effort, and money into making sure a space works for – not against – you. Office furniture should enhance productivity, organization, and comfort all while being visually appealing to employees and guests alike.
Too often, we're told we have to buy new to check the boxes of what we're looking for. But in reality, pre-owned items are just as capable of meeting our needs. Not to mention, shopping used is typically more budget-friendly.
Used office furniture is an excellent way to outfit your work space tastefully and cost-effectively. Whether you're a team of one or 100, a pre-owned purchase can put you well on your way to creating a success-driven office environment without breaking the bank.
At Santa Fe Office Interiors, we carry a wide selection of used office furniture in various styles – from classic to modern. When you visit our 9,000-square-foot showroom, you'll find everything you need for your office under one roof, including desks, seating, office partitions, conference tables, storage solutions, and much more. And the best part? Our prices are affordable, so you can keep more money invested in your business.
Here's why shopping our used office furniture is just as good as – if not better than – buying new.
Quality Office Furniture Never Goes Out of Style
Although it's possible to find inexpensive new office furniture, you often pay the price on quality. Low-cost options that require significant assembly may save you a few bucks up front, but they aren't built to last. In fact, you may end up spending more, because you'll have to replace pieces more frequently.
It goes without saying that office furniture takes a beating over time. Drawers and doors are opened and closed repeatedly, chairs are moved back and forth across all kinds of surfaces, and coffee spills are practically inevitable. You need items that will still look great and function properly after normal wear and tear.
Thankfully, buying used offers the perfect solution. You can get well-made office furniture for a fraction of the cost and have peace of mind that you'll be able to enjoy your workplace setup for years to come.
Our Used Office Furniture Comes From Industry-Leading Manufacturers
Updating your office furniture isn't just about aesthetics; it's also been proven to boost employee productivity and morale, helping you achieve a more efficient and positive work environment.
We understand this at Santa Fe Office Interiors and partner with top manufacturers to ensure consistent product quality you never have to question. When shopping for used office furniture near you, you'll find an unmatched selection at our Overland Park showroom from industry leaders like:
Express

Lorell

Cherryman

RFM Seating

ConSet

Global

Harmony Collection

ES Robbins

Phoenix Safe International

Mayline
These brands are among the best in the business and craft pieces that exceed expectations. By filling your Kansas City office with furniture from reputable manufacturers, you can be confident you'll design a space that's as impactful as your organization.
We Hold Ourselves – and Our Inventory – to a Higher Standard
It's a common misconception that used office furniture for sale is likely in poor condition or damaged in some way. That's not the case at Santa Fe Office Interiors, though. Our pieces go through rigorous inspection to ensure quality assurance, so you can feel good about the office furniture you're investing in.
Just like we hold our inventory to the highest standards, our team is committed to exceptional customer service. We make your satisfaction our top priority and update our showroom daily with new-to-you office furniture options. This way, you never miss out on ideal solutions that have the ability to take your space to the next level.
Visit Santa Fe Office Interiors for an Impressive Selection of Pre-Owned Office Furniture in Kansas City
Finding quality used office furniture near you hasn't always been easy. That is, until now! Finally, you can get durable, long-lasting office furniture without blowing your budget on new pieces. In fact, we believe in saving you money at Santa Fe Office Interiors, so you can continue focusing on doing what you do best.
When you're ready to redesign your office, or you're considering moving into a new space, there's no better way to start than by browsing our used office furniture. Our team makes shopping for your business needs simple and hassle-free; we'll get to know you and make expert recommendations to help you pick out the right solution at an unbeatable value.
Call our Kansas City office furniture specialists at (913) 901-8800 to learn more about our pre-owned offerings. Or send us a message online.