Discover Top-Quality, Affordably Priced Home Office Furniture Near You at Santa Fe Office Interiors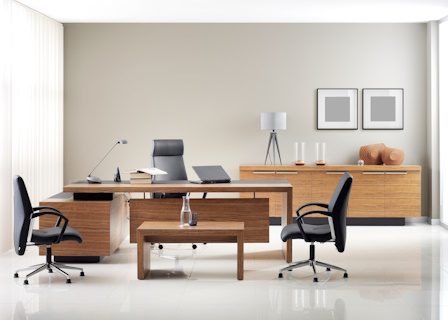 Whether you're running your own business or working for somebody else's, having a stylish and functional work-from-home space is crucial to keeping you comfortable and productive. Some days it can be a challenge to set aside household distractions, but by having a dedicated area you can go to for your work, you're able to create a more focused environment for enhanced efficiency.
However, designating a home office is only the beginning. You also need the right home office furniture to ensure you're set up for success.
At Santa Fe Office Interiors, we carry a robust selection of furniture for home offices, providing you with new and pre-owned options from industry-leading brands. Our inventory is updated regularly, so our showroom floor is never the same twice, giving you an unbeatable variety of home office furniture to choose from.
We're passionate about helping you update your space with high-quality solutions that don't break the bank. Our home office furniture comes from top manufacturers, but it doesn't come with premium prices. It's our belief you shouldn't have to pay top dollar for lasting furniture.
Keep reading to learn more about our most loved home office furniture options and how they elevate your workspace.
Home Office Furniture Solution #1: Desks
Your desk is perhaps your most important piece of home office furniture. It's so much more than a surface; it's the control center of your workspace. Most of us spend at least 40 hours a week at our desks, so it's essential you have a comfortable and efficient area to do your job effectively.
But what does that mean exactly? A good desk will be tall enough to provide ample legroom and offer plenty of space to keep items organized, so you're not stressed by unnecessary clutter. You may also consider a standing desk, if you want the flexibility to change your working position from time to time.
Santa Fe Office Interiors proudly offers a wide range of desk options made from quality materials including wood, laminate, steel, and wood veneer. No matter if your style is more traditional or modern, we have a home office furniture solution to seamlessly fit in with the rest of your decor.
Home Office Furniture Solution #2: Desk Chairs
A desk chair may seem simple in nature, but it's this piece of home office furniture that helps promote good posture, so you can stay comfortable and productive. A low-quality chair not only causes physical pain, but it can also hamper your overall work performance.
Fortunately, Santa Fe Office Interiors carries desk chairs that go beyond aesthetics. From ultra-plush executive seating to ergonomic chairs, we have solutions to suit every preference. When you explore our furniture for home offices at our Overland Park showroom, you'll be able to test out all our offerings and feel the difference for yourself, so you can find a chair that adds next-level support to your day.
Home Office Furniture Solution #3: Chair Mats
A desk chair can take you far, but a chair mat can make your work-from-home experience that much more pleasant. This home office furniture accessory allows you to effortlessly move your chair without damaging your flooring. By putting a layer of protection between your chair and floor, you're able to prevent scratches, dents, and other types of wear. Chair mats can even enhance the ergonomics of your space by providing a consistent level of support and stability.
We understand that in addition to office furniture for your home, you need functional accessories that boost your comfort as well as your work efficiency. Our custom chair mats from ES Robbins feature a carpet-friendly cleat system and smooth surface to facilitate seamless mobility and floor protection.
Shop Home Office Furniture Near You at Our Overland Park Showroom Today
Whether you're simply filling a corner of your bedroom with home office furniture essentials or outfitting an entire room, the right desk, chair, and chair mat are must-have solutions for any size space. When you visit Santa Fe Office Interiors, you'll find it all under one roof; we want to make it easy for you to get the quality additions you want at prices you can afford.
Visit our 9,000-square-foot showroom in Overland Park from 10 a.m. to 4 p.m., Monday through Friday, to shop the best in office furniture for your home. We also offer appointments for your convenience, so you can stop by at a time that works for your schedule. Call (913) 901-8800 or send us a message online to book your consultation today.