Plus, How You Can Save Money on Your New Desk By Purchasing Used Office Furniture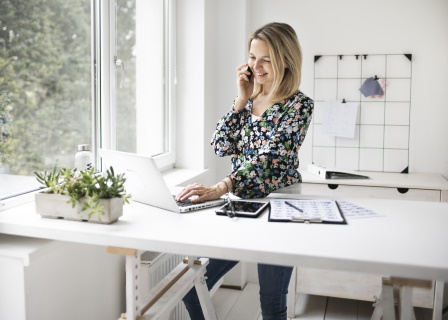 Are you tired of being in pain at work? Sitting at your desk all day can cause pain in your back, neck, and shoulders. Especially if your desk isn't giving you what you need to succeed. Thankfully, standing desks are here to save the day – and your back! Read how this new type of office furniture can help you have a better day at work.
Why Do I Have Back and Neck Pain When I'm Sitting at My Desk?
For most people, the reason they have pain in areas like their necks, shoulders, and backs while they're working is more simple than you think: you're accommodating your body to your workspace, rather than having it set up to accommodate you. After a long day's work, you might feel stiff, sore, and generally unhappy if you haven't set up your space correctly.
Not sure if your workstation is a real pain? Here some easy ways to tell if your office desk is causing a strain on your muscles and joints:
Knee and back pain from sitting in an office chair that's too high or too low
Lower or mid-back pain from slumping in your office chair
Neck pain a monitor that's too high or too low
Shoulder pain from using a mouse or keyboard that's placed too far away from your body
So, How Can I Be More Comfortable While I'm Working?
You can find more comfort while you're at your desk by investing in quality office furniture, even if you're working from home. Purchasing furniture like ergonomic office chairs, monitor stands, and standing desks can help you improve blood flow in your neck, shoulders, back, and legs, which results in a more enjoyable work day.
The cost of new office furniture in Kansas City might make you feel you can't afford to get what you need to work comfortably. Don't panic! Used office furniture is a great way to supply your office with the best brands in office furniture, without spending all your money on a single item. You can find discounted office desks, chairs, more that look stunning. Plus, you don't have to wait on shipping!
Tell Me More About the Benefits of Standing Desks.
Standing desks, also known as stand-up desks, allow you to switch from sitting to standing while you work. Some standing desks are stationary, but most are adjustable, so you can change the height to suit your needs. They have been shown to have incredible benefits for your health, and make your workday a little easier to get through. Take a fast look at all the ways standing desks can benefit how you work:
Standing Helps You Lower the Risk of Gaining Weight at Work
It's easy to pack on the pounds at work when you're sitting all day, especially when you're grabbing a fast bite to eat before heading back to work. When you stand for a few hours while you work, you burn more calories than sitting, which can cause you to burn up to an extra 1,000 calories a week!
Standing Desks Have Been Shown to Help Lower Blood Sugar
After you eat, your blood sugar spikes. This could mean big trouble for diabetics. Fortunately, studies have shown that standing for two hours after you eat reduces blood sugar spikes. You can keep it up by alternating sitting and standing every thirty minutes for your entire day at work.
Standing Desks Reduce Pain
Pain, especially in your back and shoulders, is one of the most common complaints of people who sit at an office desk all day. Standing desks have been shown to reduce pain in just a few weeks after you use one on a regular basis. In fact, the CDC published a study that shows standing desks can reduce neck and back pain by up to 54% after just a month.
To get the benefits of a standing desk, most experts recommend splitting your day down the middle by sitting for the first half and standing for the second. You might even see a boost in your productivity along with pain relief, so be prepared to step your game at work!
New Standing Desks Seem Pricey – Is It Better to Buy New or Used Office Furniture?
New standing desks can cost up well over $1,000, but some lower-quality models come in at about $600. That's quite a bit of money if you work from home or have a small budget for your corporate office.
When you choose to buy used office furniture, you're saving an enormous amount of money and getting high-quality furniture. You can often find newer models of standing desks at affordable prices and have enough left over to buy an ergonomic office chair for when you feel like sitting at your desk.
Do You Have Any Tips for Being More Comfortable While I'm Sitting at My Desk?
Sometimes, you just don't feel like standing while you work. That's okay, because there are easy ways for you to be more comfortable while you sit. Practice these simple tips to take a better seat at your desk:
Always keep your feet on flat on ground or footrest, and avoid crossing your legs and ankles
Find a desk that allows you to look straight at your monitor, without having to look up or down
Get up and take a walk when you start to feel pain
Relax your shoulders and sit up straight
Standing desks are a brilliant solution for workday comfort, but make sure you invest in office chairs that suit your needs. Many of the best brands of ergonomic office chairs come in a variety of colors and styles. So, when you're in the market for quality used office furniture, make sure you think about solutions for sitting and standing.
Turn to Santa Fe Office Interiors for Standing Desks and Premier Used Office Furniture in Kansas City!
At Santa Fe Office Interiors, we believe everyone deserves to work comfortably. That's why we are passionate about providing Kansas City with high-quality used office furniture to keep you cozy and productive all year long. Visit our showroom to see used office desks, chairs, organization systems, office partitions, and anything else you need to complete your office.
Ready to take a stand at work? Contact us online to ask questions about our inventory or call us at (913) 901-8800 to speak with a member of our team. Don't forget to ask us about great deals on conference tables, too!